Kwara inaugurates committee on LGCD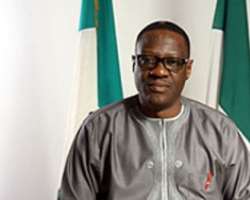 Kwara State Governor, Dr Abdulfatah Ahmed has inaugurated a 14 man committee on the creation of Local Government Council Development Areas in the State, saying this was in response to people's clamour for more local government areas in the State.
Governor Ahmed said that despite the increase in the State's population, extensive land mass and other demographic features, some local government councils like Asa, Moro and Ifelodun created in 1976 have remained unchanged while several others have been created out of the others.
The Governor explained that the LCDA was a viable alternative to local government creation because of the 'stringent and time consuming constitutional process required for the creation of new local government councils'.
The terms of reference of the 14 member committee, according to Governor Ahmed include: identify all basic parameters contingent to the creation of Local Government Council Development Areas using variables peculiar to the Kwara environment while borrowing relevant experiences from other States that have similar structure; consider all factors related to viability (Internally Generated Revenue, population, Land Area etc) in suggesting an areas for LCDA status; and identify suitable communities as headquarters taking due cognizance of precedence in administrative responsibility in arriving at the choice.
Other terms of reference, the Governor said, included: consideration of other relevant factors that will ensure uniformity, equity, fairness and greater sense of belonging; Assess the possibility of converting existing districts into Development Areas Councils with little adjustment where necessary and review of the reports of similar exercises carried out in the past and any considerations the committee finds pertinent.
The Chairman of the Committee, Alhaji Abubakar Kawu Baraje, in his response, promised that the committee would religiously abide with the terms of reference given to it by the State government, adding that interactions with stakeholders, traditional institutions, various development associations, among others would be carried out.
Alhaji Baraje said all loopholes of similar committees would be looked into inorder to make his committee's recommendations acceptable to the government and people of Kwara State.