What Happened to Ini Edo's Image and Likeness?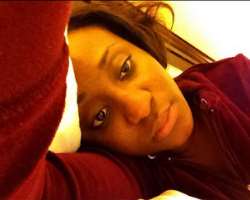 Nigerian actress, Ini Edo, has over the years grown to become an house hold name in the Nigerian movie industry with her acting prowess which has always made her stand out among her peers in the industry. She began her film career in the year 2000, and has featured in more than 50 movies overtime.
In 2008, the actress, got married to American-based Nigerian businessman Philip Ehiagwina. In 2013, she was announced as judge for the Miss Black Africa UK Pageant. Due to her philanthropic gestures, The United Nations appointed her as the United Nations Habitat Youth Envoy.
Since getting married in 2008, the actress has been under the very watchful eyes of many especially her fans on when the sound of a baby will be heard. About six years now, that hope is yet to materialize. Rather, it is one scandalous news to the other about the actress which severally she has denied.
Let's take a look at the husband (ex), Mr. Philip Ehiagwina. He was said to be in a hot relationship with US based Nigerian, Ruth Okoro. When he was interviewed in July 17th, 2008, Philips clearing the air about his ex-wife Ruth, said before he joined her in America, she brought in a boyfriend of hers to live with her. She called him in Nigeria to say a 'male friend' of hers from Ghana was about to move in with her. He warned her against it, but she did not listen. The guy in question ended up moving in and her friend who shared the apartment with her was subjected to move into the living room.
He added that he heard information that they lived like husband and wife. Sharing the same bed, and taking showers together. Talking about his affection for Ini Edo, he said he was not going to let anything stand in the way of his new found happiness with the screen diva.
Things went smoothly for the family until February 10, 2013, the actress was faced with various scandals of sorts which even prompted her husband to react. Though that her marriage to Philip is crumbled is yet unconfirmed as it was reported recently that she's facing a hard time with her marriage from her in-laws due to childlessness. Another scandal seems to have emerged and it has to do with the illicit act of woman-to-woman affair popularly called lesbianism.
Also indicated in the unholy act is another controversial actress, Tonto Dike who was said to have both got drunk even to stupor some months back at a movie location somewhere in the east and engaged in the ungodly act. The report has it that, Ini Edo and Tonto, ever since they spent that night together, have also been seen glued together like the Siamese's twins at a bar tucked somewhere around Alpha Beach, Lekki/Ajah area of Lagos.
Despite all the challenges the actress might have gone through, her fans still stood by her especially with prayers for her to get pregnant soon. The fans even go as far as attacking even the media platform that attempts to write anything about her pregnancy status. Well, as many families and friends would have been getting ready to think of spending the end of the year's celebration with their loved ones, the Theartre Arts Actress, seems to be taking her job very seriously than her home.
In preparation towards the end of the year, late September 2014, the actress was yet slammed with an infidelity scandal which. She was rumoured to be having an affair outside her matrimonial home and as such, the husband was not comfortable with that. Though, both parties kept silence over the issue, but insiders continued to spread the breakup gospel around. The actress took her fans by surprise when she took to her social media page to announce that she specifically asked for divorce and not that she was a cheat. Hmm, what do you make of this?
Well, there are two sides to a coin and we cannot judge. But now the marriage has ended according to her, what then becomes of her? Will she still get married and at what age? You will agree with me that 2014 has been a sad year for Nigerian celebrities especially. Lips sealed.