Fox Pulls Plug On Jack Bauer's 24 TV Series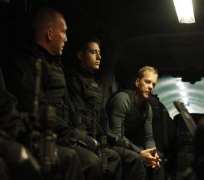 San Francisco March 27, (THEWILL) – US broadcasting television giant, FOX, said on Friday it would end popular action packed counter terrorism drama series, 24, this season.
The decision to end 24, which in its eight season was announced in statement on 24's web site.
Fans of 24 are not happy about the decision to end the highly rated drama series, which has attracted worldwide viewership.
The statement reads:
"In a joint decision made by 24's star and executive producer Kiefer Sutherland, executive producer and show runner Howard Gordon, Twentieth Century Fox Television, Imagine Entertainment and Fox Broadcasting Company, it was determined that the acclaimed series will end its remarkable eight-season run.
"Jack Bauer's last day on FOX will conclude when the final two hours of 'Day Eight' air Monday, May 24 (8:00-10:00 PM ET/PT). As the countdown to the series' climactic conclusion races on, the final 11 hours will air uninterrupted Mondays (9:00-10:00 PM ET/PT) on FOX.
"Multiple award-winning series star Kiefer Sutherland reflected on the show's run: "This has been the role of a lifetime, and I will never be able to fully express my appreciation to everyone who made it possible. While the end of the series is bittersweet, we always wanted 24 to finish on a high note, so the decision to make the eighth season our last was one we all agreed upon.
"This feels like the culmination of all our efforts from the writers to the actors to our fantastic crew and everyone at Fox. Looking ahead to the future, Howard Gordon and I are excited about the opportunity to create the feature film version of 24. But when all is said and done, it is the loyal worldwide fan base that made it possible for me to have the experience of playing the role of Jack Bauer, and for that I am eternally grateful."
 

"Executive producer and show runner Howard Gordon said, "Kiefer and I have loved every minute of making 24, but we all believe that now is the right time to call it a day. I echo his sentiments of gratitude toward the show's amazing creative team, as well as the studio and network who have always believed in us and shown us unbelievable support."
 

"24 is so much more than just a TV show – it has redefined the drama genre and created one of the most admired action icons in television history," said Peter Rice, Chairman, Entertainment, Fox Networks Group.
"Kevin Reilly, President, Entertainment, Fox Broadcasting Company added, "We are extremely proud of this groundbreaking series and will be forever thankful to Kiefer, the producers, the cast and crew for everything they've put into 24 over the years. It's truly been an amazing and unforgettable eight days." 

"We are so grateful to Kiefer and Howard who have really poured their hearts and souls into making this show over the past eight seasons," commented Gary Newman and Dana Walden, Chairmen, Twentieth Century Fox Television.
"To everyone who contributed to this iconic series over its amazing run, we want to extend our heartfelt appreciation for your incredible work." 
Added Imagine Entertainment's Brian Grazer, "I'm so proud to have been a part of 24, which has become such a cultural phenomenon. And to Kiefer and Howard and everyone who has worked on the show, many thanks," the statement added.
There was always talk about a 24 movie after the series ends, this announcement also opens up possibilities.