TY Bello Goes On Photography Tour To Kano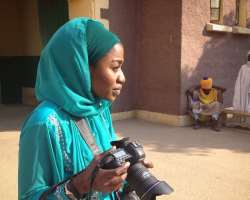 Nigerian singer, TY Bello, is not only a music artiste, but an internationally acclaimed photographer. The colours, shades and textures which she captures in her photographs are expressed in her music as well.
According to her, arts is about collecting experiences and expressing them, stating that for her, music and photography are similar forms of arts.
Recently, while taking some photographs at the Emir's Palace in Kano, the singer explained that the photographs of Kano is to serve as a voice of reminder to those trying to destroy the city and its amazing heritage.
While talking about Kano, the singer expressed admiration for her aquamarine ensemble as it didn't get in the way of her work at all. "It's the most glamorous I've felt holding a camera," she confessed.
TY Bello is a multifaceted young woman. She stages an annual photography exhibition to raise funds for orphans across the country. She is also a Director of Link-a-child; an NGO dedicated to propagating information on orphanages in Nigeria and soliciting sponsorship on their behalf.