Why I am Campaigning With My Blonde Hair- Tony Tetuila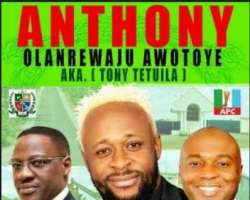 Few days ago, music artiste, Tony Tetuila attracted criticism when his campaign poster showed him still flaunting his blonde hair when campaigning for a political post. The artiste has defended his look.

In his words, he said he is going to do something about it, since people are beginning to talk. "I am not going to the office to sing, though I am an artiste, I am going to serve my people. I am not going to office with the tinted hair. I was discussing with some youth leaders who said I could leave the hair, but now that people are speaking on it, I have to do what my people want."I only used the blonde hair to campaign because everybody knows Tony Tetuila with that trademark.

Meanwhile, speculations have it that the artiste may be broke, but he has affirmed that he is not broke "How can I be broke? I am not broke, everybody knows where I am coming from, I am not going into politics for the fun of it, we artistes always sing about poverty but rarely do anything about it.If you know songs like "prayer for Naija" and e go better you will see that we only complain but we don't do anything about the suffering. We want Nigerians to live a better life. What I am going to deliver matters and not the hair." He said. Will you vote for Tony?
Click the link below to go to...
Toyin Aimaku speaks about Love,Her husband and past Failed relationships
My 'wife's' death: The true story –Ekwe Stereoman
Nollywood bids farewell to Enebeli Enebuwa
Mercy Johnson Returns February
Midnight Crew Supports Pastors To Have Private Jets, Kunle Ajayi Also Joins
Iyanya Spends Holiday With Yvonne Nelson In Ghana
Sunny Okosun Son, Jerry Released From Jail Over Nkiru Sylvanus Kidnap
Nollywood Actor, Jim Iyke Jet Skiing On The Island