Malaika Dazzles at 19th Album Launch, Super Star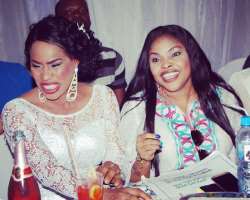 Fuji Music Star, Alhaji Sulaimon Adekunle Alao 'Malaika' dazzled fans on Sunday 21st at the Haven, Ikeja where he launched his 19th album, Super Star.

The launch saw lots of celebrities graced the high class event.

Malaika performed some songs in Super Star album. This made audience demanding for more songs.

During his speech, he said he gave thanks to God who supported him on the project. And the album he dedicated the album to his fans.

"I give God the glory. The album can't be possible without Him. Without my fans acceptance, the work is not completed. So I am dedicating the album to my fans who have been supporting me", Malaika added on the lyrics in the album. "There are lots of educative messages in the new album. My fans have been in anticipation to buy the new effort in the market. Super Star album is another brand of music from KS1 Malaika. I'm very positive my fans will enjoy it".
MALA 000
MALA 1
MALA 3
MALA 4
MALA 10