Fan Accuses Kcee of Being Proud and Fake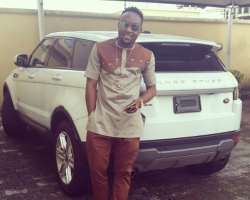 'Limpopo' crooner Kcee, is under criticism again from a fan who happens not to like his personality on social media.
The singer recently posted a picture of himself and his latest 2014 Range Rover Sports which he just aquired in his garrage and a fan left a comment on his page telling him that he is too fake and proud.
For the first time the singer happened to look cool on his dressing as he was putting on a very calm native brown colour attire with not much design on itbrown and a slippers to go with it.
Well, for sometime now, the singer has tried to ignore some annoying comments by fans anytime he is on his social media page as he keeps doing what he knows how to do best.
© 2014 Nollywoodgists.com
Click the link below to go to...
Estrange Wife of Nollywood Actor Tchidi chikere, Sophia, Pours Cold Water On Husband's Tweets
Nollywood Actor And Producer, TChidi Chikere Knocks Ex-Wife Sophia On The Head
Nuella Is My Missing Rib--Tchidi Chikere Confesses
Nollywood Actress Nuella Njubigbo: I Had No Control For My Love For Chidi
EXCLUSIVE: I'm Still Married To Tchidi Chikere—Sophia Cries Out
BREAKING: Tchidi, Sophia Chikere Marriage Crumbles
TCHIDI CHIKERE MOVES IN WITH PREGNANT NUELLA NJUBUIGBO + THE DIRTY SECRETS OF HIS ESTRANGED WIFE, SOPHIA
EXCLUSIVE: Why Tchidi Chikere Broke Up With Sophia**Actress, Nuella Njubigbo Fingered