Crises Rocks LM Ericsson, as Mass Sack of Nigerian Workers Loom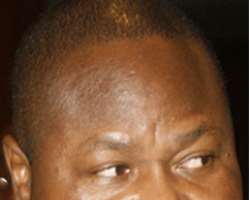 It is no news that the excruciating heat of the credit crunch is taking serious toll on many businesses in the world and that has been making some companies, out of their managerial defects to lay off their staff in an indiscriminate manner with total
disregard to labour legal provisions. No doubt the operations of end-to-end telecommunications infrastructure giant, LM Ericsson in Nigeria may soon be grounded if it caries out its threat to retrench its Nigerian workers.
This is because the morale at the company with headquarters at Walter Carrington Crescent, Victoria Island in Lagos, has hit an all time low now. The workers who have vowed to resist an impending mass sack with everything in them are no longer motivated to put in their best in any way. Consequently, they are silently protesting the highhandedness of the management of the company which earlier illegally banned them from active participation in unionism. Huhuonline.com gathered that after Ericsson sent out a circular to members of staff that due to its current reorganization exercise as a way to cut cost, some of them would be the way out of the company, Nigerian workers in the company could not imagine the justification for the grim news. Sources reckon that the Nigerian operation of the Swedish company has continued to yield a lot of profit for the company despite the economic meltdown that has halted economic activities all over the world. Infact, we learnt that the Nigeria operation is only one of the few operations of the company that has continued to be profitable inspite of the recession.
There are indications that the decision of the company to send local workers packing is fallout of its activities In South Africa. LM Ericsson was said to have ran at a loss in 2008 in South Africa but was unable to retrench workers as a cost cutting measure as a result of strong labour laws in South Africa. The result of its loss in South Africa is now about to be visited on Nigerian workers, as the company feels that anything goes in Nigeria as Labour Laws are hardly recognized let alone been enforced. We also gathered that as a result of protest by Nigerians working in the Company, the management decided to carry out its intention through the back doors. Local workers have been asked to resign and reapply to the company. This was vehemently rejected as it amounts to the same mass purge of the local workers by another deceptive guise. Local workers have continued to mobilize as the management seems detrimental in carrying out its intimidating mass sack threat.
Meanwhile, there are indications that the company may have flouted immigration laws and Expatriate Quota regime in its employment of expatriate staff. Huhuonline.com discovered that foreign workers hired as consultants for just a three month period end up working for the company for years. At a time, it was gathered that there were close to 300, such expatriate consultants who illegally worked for the company. Sources say that the problem is, these expatiates do not contribute as much as the local workers, they are better remunerated. The company accommodates, feeds and places them on a high salary scale, hey equally use state-of the-art-official cars.
Huhuonline.com checks also have it that the management of the company has reserved a couple of positions in the company for only expatriate workers despite the fact that there are \several Nigerians better qualified to handle such positions. Hence the tension at the company is now palpable. Though, the Precision Electrical and Related Equipment Senior Staff Association (PERESSA) which is affiliated to the Trade Union Congress of Nigeria is poised for a showdown with the management of LM Ericsson. In a letter dated han 30th of October 2009and signed by T.K. Olatunji, Ag Gen. Sec, the group warned of dire consequences, should the company's management proceed to to retrench local workersin the guise of cost cutting. However, the group requested for a meeting with the management of Ericsson but threatened to mobilize the full force of the Trade Union Congress of Nigeria for appropriate response, if the planned move is not suspended.
Information gathered at the Nigerian Communications Commission (NCC) for comments showed that te Commission may take actions if L.M. Ericsson continues to flout Nigerian laws by carrying out actions that are impossible in other countries. L.M. Ericsson is one of the leading telecommunications equipment suppliers in the world and the supplier of choice for Nigeria as most operators deploys for their services. Operators that make use of Ericsson switches and other equipments include MTN, Zain, Zoom Mobile, MTEL and a couple of others. Meanwhile while LM Ericsson was reacting to this scandal through it Director, HR and Blair Mackenzie maintained that Ericsson like any other global corporations has had to respond to global financial crisis to remain competitive and well poitioned for the future, and that Ericsson has embarked on a cost reduction and right sizing exercise and the sub-Saharan part of this adjustment is currently underway and will also affect Nigeria. As a result of this exercise there are likely to be some job losses.
It was further confirmed that the exercise would be handled with utmost sensitivity and professionalism, Ericsson has communicated openly about there structure and potential for redundancies through letters, emails, workshops and all-employee meetings since July 2009, and provided all employees with opportunity to provide feedback on the proposed restructure as well as suggestions for avoiding job losses. For those that could ultimately b affected by the redundancies, Ericsson Nigeria has consulted labour lawyers to ensure that those employees are treated and compensated fairly and in accordance with the provisions of Nigerian labour law.
It is unfortunate to see Nigerian citizens turning out to be an object of ridicule and victims of labour chastisement by foreign nationals, this is one, too many a call. Such national slap is apparently sending a signal that Nigeria is a country where rights of labour can be trampled on without recourse to justice. However, as a good people great nation, Ministry of Labour and other stakeholders in the country need to look into these irregularities to ensure that the constitutional rights of Nigerians as it relates to labour are not flouted by any alien who would not respect local content and other rules of engagements. It is not just LM Ericsson there are several other companies in Nigeria found culpable of a similar act. There are cases of machines and chemicals deforming people while in active service and due compensations are not given to them.