I HAVE NO PROBLEM WITH TIMAYA – KEFEE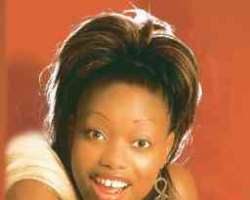 Kefee is one musician that has not stopped surprising many people with the speed at which she is rising to the top of the music industry in Nigeria.Her Branama track brought her into prominence some years back. And just when many thought she had nothing more to offer, she showed her fans and foes what she could do with her vocal chords by coming out with a chart buster, Kokoroko, featuring Timaya.
Apparently spurred by the success of the single and the video, some people went to town with the gist that Kefee is having serious issues with Timaya over unpaid bills.
It was alleged that Kefee did not complete Timaya's payment for featuring in the album, therefore, the Bayelsa-born king of the dancehall is threatening fire and brim stone.
When Life and Beat called Kefee on the phone, she said the gist was so baseless that she would not want to comment on it.
'I think people just sit down and fabricate stories. Good things are happening in my life now but they will not talk about them. I don't want to comment on that issue. Call Timaya and find out if I am having any problems with him.'
Prodded further, Kefee said she did not have any problem with Timaya. 'Can you imagine, I just did a song, No bi Sapele Water, and Timaya just told me he so much likes it. If I had any problem with him, he wouldn't have commended or commented on the single. Please, I am not owing anybody.'
When Life and Beat called Timaya on his phone, it was switched off. However, a close friend of his said he did not have any issue with Kefee. 'Kefee is just like his sister. I wonder where this rumour is coming from. Nobody is owing anybody,' the friend said, preferring anonymity.