Nollywood Comedian, Gandoki Performs Exclusive London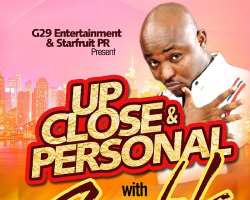 Gandoki is in London for one night only.
He will be getting 'Up, Close & Personal' with an intimate audience at the ultra-chic Nollywood celebrity hangout, Z'bra Lounge Thursday 11th of September 2014!
Right now, Gandoki is said to be one of the biggest names and comedians [...]. He is not only organizing the big shows, but also grooming younger artistes who are making the state proud. Akinnagbe Akintomide, nollywoodgists.com
On Thursday, September 11th Nigerian stand-up comedian Gandoki will mark the launch of Laugh Therapy in
his only London date at the new, trending venue, Z'bra Lounge.
With a career spanning over a decade, Gandoki is set to perform before a fortunate few at the plush,
sophisticated, refurbished venue, spanning three floors. Loaded with rib-rendering new material, Gandoki will
launch the bi-monthly comedy night in an ambitious four hours' show, from 7pm to midnight.
With delectable food available from the restaurant and cocktails on offer throughout the night, Laugh Therapy
at Z'bra Lounge will satisfy the physical and emotional appetites of those in attendance.
Gandoki rose to wide acclaim in Nigeria working alongside other household names including AY, Basketmouth,
Julius Agwu and Igo Dye. He has a strong UK following amongst the Nigerian Diaspora making this an event on
everyone's lips.
The night will also feature the musical talent of one of London's most celebrated Nigerian musicians, Makola
Mambo. With warm nostalgic afro-beats and high-life playing at each interval, this event promises to strike all
the right notes.
Since its rebirth in March 2014, Z'bra Lounge has opened its red velvet rope to a strong list of Nollywood stars
including musicians Bracket and the inimitable 2face Idibia.
With table bookings already being made for Thursday, September 11th, Z'bra Lounge will also open its VIP
lounge in anticipation of overflow.
Z'bra Lounge is a multipurpose venue comprising restaurant, bar, lounge and garden. Now under new
management, Z'bra Lounge (formerly Embassy restaurant) specialises in Nigerian cuisine and host regular
private events for the general public and Nollywood celebrities.
Gandoki:
http://vimeo.com/84657454
Z'bra Lounge:
https://www.youtube.com/watch?v=2y6QGVUfaF0&feature=youtu.be
Media enquiries:
Esther Ademosu
PR Manager
07459 270 234 - [email protected]
Starfruit Consultancy
Public Relations Practitioners