The People Will Decide Amaechi's Successor – Princewill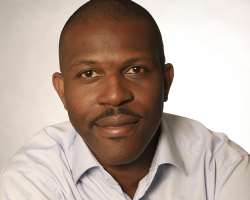 Governorship hopeful in Rivers State on the platform of Peoples Democratic Party, Prince Tonye Princewill, in this interview, speaks on his ambition, Rivers State politics and the 2015 elections, among other issues
What informed your decision to want to run for governorship position in Rivers State in 2015?
I know my capacity, I know what I stand for, I know where the state needs to go and I know my team and I can take it there. I also know my limitations and the fact that I cannot do it on my own. Whoever will win will need the youths, the women, the business community and the non-indigenes of the state. They would need a united PDP, woo APC members and very importantly, they would need the elders. Our generation cannot do this without the elders. They may have put us in this place but they know how to get us out of it. I want to give them a chance to smile once more. To enjoy Port-Harcourt once again, just the way they always wanted. I have the energy and I have the passion. But we need their wisdom.
People hovering around 50 and above don't need to worry about being governor. The heavy lifting required and the workload is not for people who need regular checkups. Let the younger elders and the elder statesmen allow we the younger ones build the bridge and create a Rivers State we can all be proud of. Very few people can appeal to the various age groups, the different political actors, the poor, the wealthy, the indigenes and non-indigenes alike.
I know I can. I found peace in Buguma when all others ran, I organised all opposition political parties into one and managed them, I have kept my political family since 2006, I have been a cheerful giver to all shades of the state and I almost succeeded in bringing the former vice president and the president together. I know how to get things done and I have done all these things using my own resources without a political appointment to my name. Can you imagine what I would do if I was a governor?

If given the chance, what novel things do you think you can do in the state that the past governments have not done?
Amaechi tried in his own way. I believe he started well. He made an impact. But he lost it along the way. He allowed himself to get distracted. As for me, I will listen a lot more than he did and I will pick my fights a lot better than he has. In fact, I will take slaps and beatings, abuse and reprimands all on behalf of Rivers State. I do not see myself as too wise or too knowledgeable not to take advice from my elders, a superior authority or my peers. I believe that age is no restriction on knowledge but wisdom comes with time. I will open my doors even wider than he has done and create more opportunity for ideas to shine. In the area of substance, I will do a lot more to create job opportunities for our children through a more improved business climate, a better prepared workforce, a more secured environment and a further decentralized Rivers State. Finally I will choose my friends better and remember always that the priority is Rivers State. That is one of the reasons why I will be selling the Rivers State private jet immediately I assume office.
You are running against formidable opponents in PDP, how would you see your chances at the primaries?
Pretty good! In 2007, once that election ended and the Supreme Court forced Amaechi on us, I just felt that if I played my cards right, I would be the governor after Amaechi. I had no idea how, I still don't. But every year after that and every month since, my chances have been getting better and better every single day. It must be divine. I advised Amaechi not to leave PDP, even though I knew his leaving would make my path easier. My destiny is clearly not in my hands. I see people like Wike as assets not liabilities. While some look at him as the enemy, I have utmost respect for him. He stood and defended the President when others did nothing and he helped keep the party above ground when APC was determined to bring it down. If you are a member of PDP, you would do well to be grateful to him and Felix Obuah for standing firm in the face of that onslaught. But they are not alone, many people stood behind them as leaders to wage that war. I believe that by being John the Baptist, it is your place to point to Jesus Christ. Wike may not be governor in 2015 but he may be heavily involved in who will become, so I prefer not to offend him unless I have no choice. His GDI movement is formidable but so is my lean and efficient PPA. We played a major role in 2007 and 2011 and we intend to play an even greater role in 2015.
Do you feel intimidated by the presence in the governorship race of Minister of State for Education, Nyesom Wike?
Not at all! In 2007, with all the naivety and innocence of a first time politician, I faced a more fearful character in Sargeant Awuse. He had the entire party structure and yet I defeated him in the primaries. We are all human. We are all in PDP. The Hon Minister of State has not decided to run, so we are not yet in a race. He is my party leader and so if he decides to run as opposed to lead us, we will cross that bridge when we get there. Politics is not for cowards. High risk, high reward. I want to be David not Goliath. If it is my destiny, I will emerge. If it is not, I will go back to life before politics. For me it is Governor or nothing. I came to politics to make a difference, not to be part of the status quo. I want to make Rivers state a Dubai, but I need to be given the opportunity.
APC appears to hold the ace in Rivers, especially with the solid political structure of Governor Rotimi Amaechi. Don't you think it will be an uphill task for PDP to retain the state in 2015?
I am not sure where you got that impression from. That is not the view I and many people in the state have. Granted the state government is now in the hands of APC and granted most people who understand the benefits that flow from this, are tempted to stay close. But loyalty based on benefits has its limits and should not translate to transitional elections. They know how the governor behaved when he didn't need them, they know he is on his way out and they know PDP is going to produce the next president.
So what you see now is not what you will get later and what you will get later is not APC. Rivers State is PDP's to lose and the leaders are way too smart to make that mistake. So no, I don't think it is an uphill task at all. It is a task and the PDP team and the people of Rivers state are up to it. APC will not see anything to celebrate in Rivers state come 2015. Mark my words.
Don't you think the frequent clashes between APC and PDP in Rivers portend danger in 2015?
Yes that worries me. Mr. President has said that nobody's ambition is worth one person's drop of blood and we have to re-echo this message down to the grassroots. We have to checkmate this trend fast, before it becomes something else. Making war is easy; making peace is the one that is hard. I maintain that the type of leader we need, going forward is the one that can bring people together, someone who can work for peace and has the energy to bring consensus. The winner does not take it all. The trick is to keep your hands clean, stay as neutral as possible and try to remember that the community is more important than the individual. This is not easy, but it is necessary. Not just for 2015, but beyond.
In view of the security situation prevailing in the country, some people are already predicting doomsday in 2015, what is your take on this?
It can be avoided by dealing with it before it becomes unmanageable, getting the right hands on deck and allowing wisdom prevail over aggression.

If eventually former Vice President Atiku Abubakar emerges as the APC presidential candidate and President Goodluck Jonathan emerges as the PDP presidential candidate, who would you choose between the duo?
I can't see it happening for Atiku but I may be wrong. APC is not that progressive. But if he does emerge, I will support my party and I will support my President. Goodluck Jonathan. First, because the country needs it, second, because my instinct tells me that the next 4 years is the prelude to the Nigeria we all can be proud of. Nigeria needs fixing and President Jonathan is doing it. He needs to be supported to do that job not distracted. I do not see former Vice President Atiku with the baggage of APC doing a better job than Goodluck Jonathan in PDP. That is why I asked him not to leave, that is why I pleaded with him to support Mr. President, but it was all in vain.
The experience of Atiku combined with the grace of Jonathan would have taken our country far but I think there was too much mistrust and I guess where we are today has justified it. For those who may think my support is because I want a ticket, be rest assured that even if I don't get the ticket, I will still support the president. His ambition is more important than mine. But I believe I can support him and save my state from slipping backwards at the same time. A Rivers state without peace is not good for the President either.
The report of National Conference has been submitted to Jonathan, what is your expectation on the report?
I don't have much to say about that. My father taught me not to believe in my breakfast until I have eaten it. My consolation is that a dialogue has taken place, there were no walk outs and positions are shifting. How it will end is beyond me, but Nigeria will be fixed. If not now; later. But it will be fixed. Of that you can be sure.
Do you subscribe to the calls for the creation of state police?
I just got back from Chennai in India where I took my father for medical treatment. When I was there, I happened to move around and was attracted to the sight of a large white building. The driver pointed out to me rather casually that I was looking at the IG's office.
I asked him what the IG of India's office was doing in the South of India and not in Delhi. He said rather casually in very broken English that this was the IG of the region. Only the army is national. I understand the concerns of people who are afraid of overbearing governors or even the anti-secession sentiments. But these things can be checked. There are examples of where state police and federal police have co-existed successfully and Nigeria is no exception