No One Can Put Me Under Pressure—Iyanya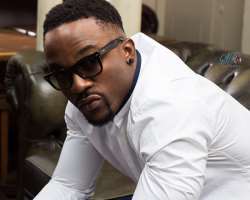 Nigeria's award winning singer, Iyanya Mbuk, is leaving no stone unturned as he continues to gain more fans and awards through his music.
The artiste, who recently toured the United States of America, says that he also had to shoot some videos of his songs, while networking with foreign artistes.
Speaking on his viral pictures from his yet to be released video, 'Mr. Oreo' which fans have tongue lashed, Inyanya said he cannot pay attention to what people say because he is out there to make good music.
Iyanya expressed sadness over the way the fans complain about artistes, not going outside the box to learn new things and improve, adding that he will never be under pressure to satisfy anybody.
He further explained that the way fans go publicly to advice an artiste is wrong, but would prefer being walked up to and telling him where he is not getting it right for him to improve on, suggesting such will make a whole lot of sense and respect.
"I feel like I owe my fans good music, which I try to do. The fact that those pictures are like that, doesn't make what it seems. It's music, its entertainment, its showbiz. If you don't like it, another person will like it. Take the one you like, leave the others. Don't condemn the artiste, don't say bad things about the artiste.
"At the end of the day, we do all these things for the fans. It hurts when a 'fan' insults you or abuses you, when you are trying to please that fan. There are better ways to get this done. There are people that advise me constructively and I take it. People walk up to me and say 'hey, I think you should do this, it will help you' and I'll be like 'hey, thanks'," he laments.