D'Adshas Release Video To Their Latest Single "Ekomosi"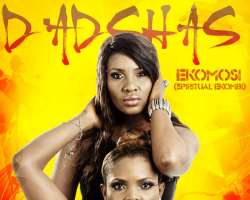 Fresh off the success of their latest single, "Ekomosi", which has been traversing the airwaves for months and has received positive reviews from both international and African tastemakers, D'Adshas, the dynamic Nigerian singing sisters are proud to debut their very cultural, sexy and energetic music video for their song "Ekomosi"
Directed by Sixx, the video has a well crafted traditional atmosphere, characterized by amazing colour combinations and the sisters giving us sexy dance moves that may unconsciously have you nodding your head and tapping your feet. This video will most certainly transform this amazing hit song "Ekomosi" and the captivating dance steps that go with it to trend status.
You can watch the video here:
Connect with D'Adshas;
Twitter: https://twitter.com/Adshas
Facebook: www.facebook.com/D.Adshas
Instagram: https://instagram.com/Adshass
Adenike Adebayo
Blogger / Publicist / Artiste Manager
The Four Hundred Music Company.