Lawmaker donates skill acquisition centre to constituency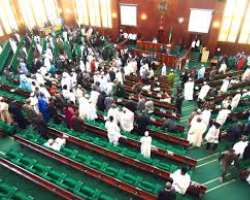 Lawmaker donates skill acquisition centre to constituency
A member of House of Representatives, Alhaji Sabo Nakudu, on Thursday donated Skills Acquisition Centre to his constituency.
Nakudu, who represents Birninkudu/Buji Federal Constituency, said the centre, located in Birninkudu, was his own contribution to creating jobs for women and youths in the area.
The lawmaker, represented by Alhaji Sani Abdu, former Chairman of Birninkudu Local Government Area, said skill acquisition was key and vital in the fight against unemployment.
According to him, skills like carpentry, welding, hair dressing, knitting, computer training and tailoring would be taught at the centre.
He said that 120 people would be trained in various skills for one year, adding that other beneficiaries would be enrolled later.
Alhaji Abdullahi Mabo, the state Commissioner for Economic Empowerment and Youth Development, commended the lawmaker for the kind gesture.
He appealed to other lawmakers in the state to emulate Abdu.
Mabo expressed hope that the gesture would enhance the well-being of the beneficiaries.
He appealed to the lawmaker to build a similar centre in Buji local government area, so as to spread the opportunity to the people of the area