Ebola: FG targets fruit bats, healthcare wastes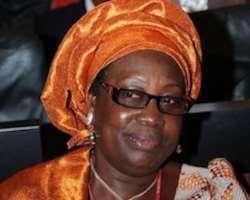 Ebola: FG targets fruit bats, healthcare wastes
The Federal Government said on Tuesday that it has started a survey of areas of the country with high concentration of animals, especially fruit bats regarded as the host of the Ebola Virus.
Laurentia Mallam, minister of environment said this was in view to controlling the animals in a bid to halt the spread of the virus.
"The control of animals implicated in the spread of this disease, especially fruit bats, which are so numerous in many of our urban cities such as Abuja, Lagos, Kaduna, Enugu, to mention but a few, is now our major focus.
"We have started a survey of their distribution in Abuja where we have found a substantial population in Wuse area, the Three Arms Zone and some areas of Maitama District and Kubwa. We have equally commenced a similar survey in other states and towns in order that we may implement a comprehensive exercise.
"We are also in touch with the various states of the federation for the implementation of massive disinfestations of homes, offices, hospitals, hotels and indeed public places infested with bats, rats and other pests," Mallam said.
The Minister also indicated that the management of Nigeria's healthcare wastes by hospitals across the country is also being looked into as this is also considered an avenue through which Ebola virus could be spread.
"In most cases and in many places, healthcare wastes are combined with other municipal wastes and disposed at open dumps indiscriminately. Even where their exposure remains hazardous and perilous, the menace of scavengers in healthcare wastes are indeed harmful and potential source of Ebola virus disease.
"A very perturbing and critical area in the spread of Ebola virus disease is through contact with fomites and personal articles of persons exposed to the disease. We honestly wish to encourage the disinfection of fomites and homes where the disease has occurred," said the Minister.
Disclaimer:

"The views/contents expressed in this article are the sole responsibility of the author(s) and do not necessarily reflect those of The Nigerian Voice. The Nigerian Voice will not be responsible or liable for any inaccurate or incorrect statements contained in this article."