P-Square Arrives Cameroon, Donates Gifts to Orphanage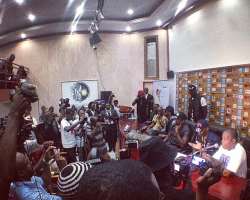 As the P-Square brothers get prepared for their concert in Cameroon, the country's fans have continued to shout in jubilation as if a hero just returned from a battle field.
Immediately the Team P-square got to the country, the press conference was held in Yaounde, the capital of Cameroon, to unveil their plans on the tour.
After the press conference, the duo had some picture moments before going to donate a cash reward and gifts to children at the orphanage home.
Peter Okoye posted this on his social media page; "And the gift and donation. Feels good doin dis. Givers never lack. #socialresponsibility #cameroon #concert #teampsquare Cc @rudeboypsquare @judeengees."
The concert is due to take place on the 10th, August, 2014, in Yaounde.