Stop Amaechi, APC Campaign Tour, PDP Tells CP, INEC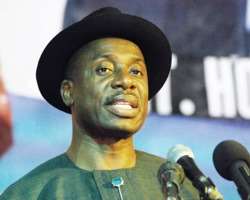 The Rivers State Chapter of the Peoples Democratic Party, PDP, has observed with utter disgust the political tension building up in the State following the ongoing campaign tour of Governor Chibuike Rotimi Amaechi under the pretext of tour of Local Government Areas across the State.
This is a clear case of arrant disregard for the rule of law and violation of the Electoral Act as Gov Amaechi and his political office seekers are using the tour to the communities, wards and villages to campaign and solicit for votes from the unsuspecting members of the areas visited for the All Progressives Congress, APC.
The open campaign and appeal by Gov Amaechi and one of his Senator-allies in some villages in Ikwerre, Oyigbo and Opobo Nkoro Local Government Areas are an eloquent proof of kick-starting political campaigns against the rule.
In those areas visited, they have openly called on the people to vote for the APC, cast aspersions on President Goodluck Ebele Jonathan and the Peoples Democratic Party, PDP.
We view all these as undemocratic, deviant and trampling on the provisions of the Electoral Act and worse still, provoking the people to cause crisis ahead of the 2015 general elections.
We are hereby calling on the State Commissioner of Police, the Independent National Electoral Commission, INEC, and all relevant security agencies to stop Governor Rotimi Amaechi and his cohorts from continuing with this campaign tours as it is a threat to the existing peace being enjoyed in the State.
In Oyigbo and Opobo for instance, inducing materials like supper print wrappers were distributed to women and in the process of scrambling for them, fighting ensued and some of the causalities are being hospitalized.
The PDP condemns sharing of wrappers in place of development and constituency projects like provision of learning facilities in our schools, good medical facilities, potable drinking water and good roads that would have benefited majority of the people as of right and not a favour.
The current Local Government campaign tour by Governor Amaechi is obviously a threat to the peace and security in the State; therefore we enjoin the police and other security agencies to put a stop to this ill-timed voters drive and waste of tax payers' money.
We regret that while the PDP has remained law abiding, Governor Rotimi Amaechi and the APC have continued to be lawless and driving processes that threaten the peace and security of Rivers State.
If Governor Amaechi and the APC are not stopped now, we foresee a situation where other political parties would capitalize on the inability of the police and other security agencies to stop them to commence campaigns when the time is not ripe.
Signed:

Jerry Needam
Special Adviser, on Media to
State PDP Chairman, Bro. Felix Obuah
Thursday, July 24, 2014