Kate Henshaw Contests For Cross Rivers House Of Rep.; Promises Good Roads & Clean Water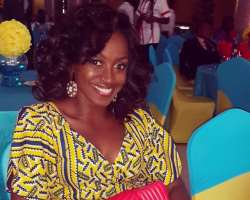 Nollywood actress, Kate Henshaw has decided to spread her tentacles to the areas of politics. the pretty actress who is celebrating her birthday today the 19th of July 2014, is diving into politics and will be running for the Cross Rivers state House of Representatives in the coming election.
According to her publicist Egor Effiong, the actress as she marks her birthday today will soon declare the news officially.
Meanwhile, when Nollywoodgists.com visited her campaign site, the actress has written something on what she plans to do when she is elected into the house.
'I have a strong interest and desire to serve my people and especially show that there is a better more humane way to do things when you are in a position of leadership. Putting the people first and being accountable to them as well as being accessible. I am also very keen to promote and champion the provision of clean water, good roads and sanitation in my constituency. One of my key areas of project focus areas will be provision of affordable education and quality healthcare especially for expecting and young mothers'
Click the link below to go to...
BLACK MARKET BUM FOR $15,000, WANT ONE ANYONE?
Young Shall Grow!!!
Pastor Ayo Oritsejafor Declares War On Boko Haram
Breaking News: Nigerian Socialite, Angela Onyeador Dies
[PICTURES] When Top Nollywood Stars Gathered For Ogogo Daughter's Marriage
I Had Crush On Ramsey Nouah--Susan Peters Confesses