Actress, Belinda Effah In Thanksgiving Mood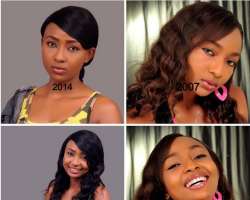 Nollywood actress Belinda Effah, has been full of praises to God for his kindness and favour through the journey of life and placing her on the level of self confidence.
The actress took to her social media site to express and make fun of herself on how relevant she has been that the likes of Wizkid Dayo have joined the train of singing 'Ginger o Ginger, Belinda o Belinda.' Putting the song on #REPLAY ###2007/2014.
'I can say thank you Lord for keeping me over the year. 2007/2014 pictures. Don't know..Thought I should share'
Belinda Effah is a Nigerian actress and presenter. She won the Most Promising Act of the Year award at the 9th Africa Movie Academy Awards.
She made her first television debut in the 2005 TV series Shallow Waters. Afterwards, she took a break from the series to feature in the reality show Next Movie Star. She finished fifth, and was never evicted from the house.
She was once a television presenter for Sound City, a Nigerian Entertainment cable station. However, she left the station to start her own TV show titled 'Lunch Break with Belinda.'