Impeachment: Soldiers take over Adamawa Chief Judge's house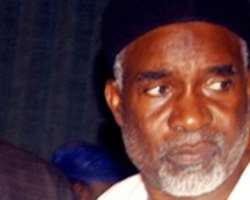 Impeachment: Soldiers take over Adamawa Chief Judge€™s house
The move to impeach the Adamawa State governor Murtala Nyako and his deputy, Bala Ngillari, has taken a new twist with armed Soldiers taking over the residence of the Acting Chief Judge of the state, Justice Ambrose Mammadi.
According to an online news portal Newsdairy, there is also a strong allegations that the Acting Chief Judge made the list of the seven man committee to investigate the governor and his Deputy under duress ,even at gun point.
According to the report, Journalists who visited the private residence of the Acting Chief Judge located at Masakare in Jimeta, sighted armed soldiers patrolling the short street.
They prevented strangers, suspicious vehicles and pedestrians from the street.
.It was further alleged that the seven man committee comprises 5 Christians and 2 Muslims, wuith some claiming that the plan was to rope in the governor and clear the deputy.
.
Meanwhile, the tenure of the Acting Chief Judge expires tomorrow( Sunday the 6th July 2014) .