MICHAEL JACKSON WITNESS ACCOUNT 'INCONSISTENT'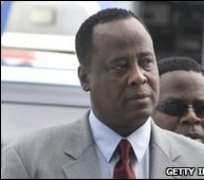 Dr Murray has denied he caused Jackson's death
A lawyer acting for Dr Conrad Murray, who is charged with the involuntary manslaughter of Michael Jackson, has criticised a leaked witness statement.
An alleged account of the night Jackson died given to investigators by Alberto Alvarez, Jackson's logistics director, was revealed by the AP news agency.
Alvarez's statement claims Dr Murray halted resuscitation on the dying pop star and delayed calling paramedics.
Dr Murray's lawyer, Ed Chernoff, said the statement was "inconsistent".
'Fair trial'
The witness statement alleges that Dr Murray halted resuscitation in order to collect drug vials at the scene.
On the legal firm's website, Mr Chernoff wrote: "This statement was given more than two months after Michael Jackson's death and is inconsistent with a statement he (Alvarez) gave the police the day after Mr Jackson was taken to the hospital.
"Further, his statement does not match up with much of the physical evidence found at the scene."
He added that they expected more leaks but "we will not be trying this case in the press".
"We would ask the public to reserve judgement until after the people's witnesses are placed under oath and subjected to the rigours of cross-examination. We are confident that a fair trial will ferret out the truth."
Michael Jackson's former doctor has denied a charge of involuntary manslaughter over the singer's death.
Dr Murray was bailed for $75,000 (£48,000) last month after pleading not guilty to "unlawfully, and without malice, killing Michael Joseph Jackson".
Jackson died at his home on 25 June last year at the age of 50.
His death was ruled as homicide, mainly caused by the anaesthetic Propofol.
The next hearing has been set for 5 April.