ZURIEL LEAVING ETHIOPIA - NEXT STOP: NIGERIA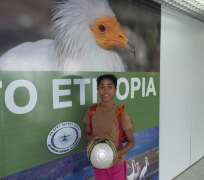 After almost 3 weeks and 19,980 miles across 3 continents of North America, South America and now Africa with her #FollowTheBallForEducation initiative, Zuriel Oduwole is leaving Ethiopia for her fourth country of travel - Nigeria, with two more to go.
Her idea of taking 2 full sized footballs because the worlds focus is drawn to the FIFA World cup, and gathering signatures as she talks about Girls Education has indeed caught the world's attention. With signature from more than 20 nationalities now including football fans in Brazil, and awareness and receptions by business leaders, civil leaders, government officials and diplomats, various Radio and TV interviews, she is hoping the world but especially Africa would see the importance and benefits of educating the Girl child, especially on the African continent.
A World at School, the foundation formed by the UN Special Envoy on Education - Prime Minister Gordon Brown and his wife, earlier in June featured her #FollowThe Ball program prominently on their platform.
An award winning documentary filmmaker, she is using herself as an example of what a girl child can accomplish if educated, having interviewed more than 14 Presidents and Prime Ministers globally. She believes this constituency can indeed make a future impact on the global economy, starting with Africa if they are given the same resources and encouragement as boys at an early stage.
Sponsored by Ethiopian Airlines her official carrier, she would arrive in Lagos Nigeria and make her first appearance on Sunday morning June 29th at the Redeemed Christian Church in Victoria Island, where she would address the congregation and meet with children of this Apapa parish.
Invited to speak about her journey and be an encouragement, she would also be signing copies of the May edition of the church's glossy lifestyle AvantGarde magazine, of which she was on the cover. The RCCG is the largest independent church in Africa, with members and churches on all continents of the world.
BALL SIGNING AT HILTON ADDIS ABABA
BALL SIGNING AT US EMBASSY ADDIS ABABA
BALL SIGNING IN NIGERIAN EMBASSY ETHIOPIA
FOLLOW THE BALL WITH KATEMA PREP GIRLS IN ADDIS ABABA
ISSUE 24 COVER CHILDREN
ZURIEL ARRIVES IN ETHIOPIA
ARRIVES AT MAGAZINE SIGNING
AUTOGRAPHS MAGAZINES AT RCCG CITY OF DAVID
ZURIEL AND CHILDREN AT AVANTGARDE MAGAZINE SIGNING
ZURIEL WITH A YOUNG FAN AT MAGAZINE SIGNING
ZURIEL YOUNG BOY AND MON AT MAGAZINE SIGNING
ZURIEL YOUNG GIRL AND MOM AT MAGAZINE SIGNING