I Don't Do Things Without My Wife—Femi Ogedengbe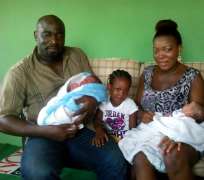 Nollywood actor and director, Femi Ogedengbe, has warned married couple that tolerance is one vital tool that can keep a marriage strong and healthy.
According to Femi, it is important that couple stay faithful to their union and learn how to forgive one another because there shall come trial period in their lives and that is where the strength of the union will be tested.
'Tolerance is one vital tool. Before marriage, make up your mind to stay true to the union, no matter what happens. Learn to forgive because in marriage, there are rough times when you will question your decision to marry your spouse. Never get angry at every mistake.'
According to the actor, he has been able to submit himself as a husband and tries to carry the wife along in whatever decision he wants to take.
'For every step I want to take, I discuss with her but I must have thought it over and concluded that this decision will benefit both of us. The moment I get a clear picture of what the plans are and I am empowered with enough information, I discuss with her. I don't impose my decisions on her,' he noted.
The actor who has been married to his wife Nkechi, for five years now, were recently blessed with set of twins whom they christened 'Hollywood and Nollywood.'