Ex-Militants to Jonathan: Contest 2015 election or don't return home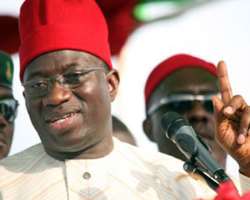 Hundreds of former Niger Delta militants mostly of Ijaw extraction have asked President Goodluck Jonathan to declare his intention to contest the 2015 presidential election or risk being banished forever from Ijaw land.
The ex-militants, who gave the warning under the aegis of Ex-militant Phase 3 Leaders of Federal Government Amnesty Programme, said they were angered following what they described as 'provocative and unwarranted comments' by politicians to intimidate their kinsman and hinder him from contesting the 2015 presidential election.
In a resolution reached after a meeting held in Benin City, the Edo State capital, signed by its chairman and speaker, Godstime Ogidigba and Peter Edah respectively, they also called on all Nigerians to join hands with the federal government in its effort to bring to an end the activities of the Boko Haram sect which have continued to claim the lives of Nigerians.
They said, 'The call became necessary at a time like this when some individuals and selfish politicians are over-heating the polity, making provocative comments and saying Mr President promised them that he would run for just one term as if they are now the constitution of the Federal Republic of Nigeria.
'Therefore, we warn any group of persons or politicians that will attempt to stop Mr President from exercising his fundamental human right that this will put the unity of Nigeria at great risk. We, therefore, call on you to contest the seat of the President. And if for any reason you fail to contest come 2015, you should not come back home but remain in Abuja forever.'
While expressing confidence that Nigeria will soon overcome the security challenges and the eventual release of the abducted Chibok girls, the group called on the citizens to support the transformation agenda of the Federal Government.