It'll be difficult to survive another four years of PDP rule – APC Chairman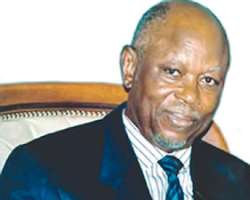 The National Chairman of the All Progressives Congress (APC), Chief John Odigie-Oyegun, said yesterday that it would be diffi­cult for Nigeria to survive another four years under the Peoples Democratic Party (PDP) with the current state of the nation.  
Speaking to journalists in Benin City, Edo State yesterday, Chief Odigie-Oyegun, gave reasons his party conceded victory to the PDP in the Ekiti governorship election. He said it was because they did not want anything that would make the people react negatively and violently. However, he noted that the APC would challenge alleged human rights infringement during and after the election.  He said Nigerians should embrace the APC as the new party with a different agenda to fix Nigeria.
'We are presenting our party as new, as different, and we have done the studies as people who truly care. There is no way we can prove it to you because we are yet to rule this country, but we can tell you, look at our states. We are not pretending to be angels, politics is not a seminary nor is it the papacy, but what is important is what are you doing with the lives of the people, that is what is critical. Are you restoring hopes to their lives? Are you making their lives better? If not for themselves, do they believe that the lives of their children will be better?
'Are your policies concentrated on improving their lives, are the sectors working in the interest of the ordinary Nigerian? Do we have power, do we have quality schools, do we have security, do we have jobs? Can we continue in this kind of state?
'I have told people who are ready to listen that this country cannot and I tell you that I mean it, cannot survive another four years of the PDP. There is no way it can survive it, so, we need people who have plans to start taking care of these issues and these things and that is what the APC represents', he said.
According to Odigie-Oyegun, many people who had no business in Ekiti were allowed into the state while those with concrete reasons to be there were denied access and this is part of what he said the party would challenge.
'Ekiti election, to some extent, is still a mystery, it still has aspects that we are trying to unfold, but the first point is, because we are a party of change, because we are a party that wants to show Nigerians that there is a different way of doing things that the party doesn't have to be bitter, in spite of all our reservations, the governor was advised to concede, in spite of our reservations for a lot of reasons', he said.
Odigie-Oyegun, who was Edo State governor, told journalists that his party did not think the heavy militarisation of Ekiti was worthwhile, raising tensions which may lead to the spilling of innocent blood.
'I had to leave virtually in the dead of night because of intelligence report that we received, I have to drive all the way from Ekiti to Lagos and most of our people who got there also left.
'There was this state of tension which needed only a little spark to set it on fire and we said look, this is not our style of politics… governor do the honourable thing. We have a lot of questions about that election, we are going ahead with something even more detailed than a forensic examination of what happened, we know all was not well,' he said.