APC, Saraki urge Muslims to pray for peace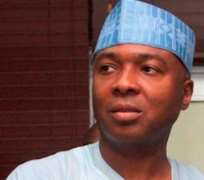 The All Progressives Congress (APC) in Osun has urged Muslims to use the Ramadan as a period of reflection and pray for peace to reign in Nigeria.
This was contained in a statement signed by Kunle Oyatomi, the party's Director of Publicity, Strategy and Research on Saturday in Osogbo.
The statement urged Muslims to pray for political sanity to pre-occupy the hearts of politicians, especially those who are desperate for political power.
"As a religion that promotes and preaches peace and brotherly relationship, true Muslims should be in the vanguard of peaceful co-existence in the society.
"At this period of great challenges facing Nigeria and the political class, fasting and praying for divine intervention is a great necessity.
"Let us use this period as effectively as we can to pray for sanity and peace to reign supreme before, during and after the election scheduled for Aug. 9 in the state and general elections in 2015," it added.
Dr Bukola Saraki, the Chairman, Senate Committee on Environment and Ecology, urged Muslims to use the opportunity of Ramadan to pray for the restoration of peace in the country.
Saraki, who stated this in a statement on Saturday in llorin, urged Muslims to pray for a terror-free Nigeria.
"I give thanks to Almighty Allah for keeping us alive and healthy to witness and partake in another Month of Ramadan; the month of forgiveness, mercy and abundant blessings.
"I urge the Muslim to use the opportunity of this month's divinity to get closer to Almighty Allah and wish them a successful Month of Holiness," he said.