Why WWTBAM Has Produced Only One N10m Winner—Frank Edoho Reveals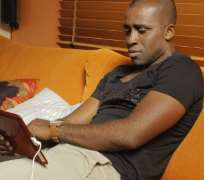 On-Air-Personality, Frank Edoho, has disclosed that youths especially these days do not want to work but wants drive flashy cars and own luxuries of all sorts.
According to the 'Who Wants To Be A Millionaire' anchor, the youths want to drive that flashy car but not prepared to put in any effort and as such, they get off the rail towards their destination and toe the dubious direction.
Speaking on the strong point of the reality TV show, Frank explained that the show's strongest point is its underlying philosophy that you have to work for what you earn.
'It looks like it's easy to answer fifteen questions and get ten million naira. But when you see the drama and what goes into it, you will know this is work. So, ten million naira doesn't come easy, no wonder we've only had one ten million naira winner.'
'So, I think the philosophy of the show is that we want to entertain, we want to educate but most importantly, we want to pass on the hidden message that you have to work, to earn the prize,' he added.
Frank also added that part of the reasons why the youths do not read these days is due to the kind of lifestyle we find ourselves which doesn't allow us to read, describing it as a deterrent.
'Those days we didn't have a lot of technology, we didn't have social media and we didn't have many distractions, so one of the ways you could entertain yourself, is to carry a novel by Jeffery Archer and read. The ladies will pick Mills and Boon.'
'Then technology came and took over and we now have many distractions. We must have missed it somewhere along the line, because even in the developed societies, they still read and their culture enables it.'