VROOM: TECHNOLOGY AT ITS FINEST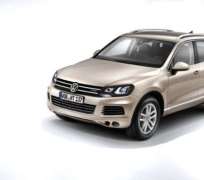 A vehicle which can be said to have broken grounds in all rules is the 2011 Volkswagen Touareg. The Sport Utility Vehicle (SUV) is designed and packaged with cutting edge technology and safety devices.
The luxurious, ultra modern vehicle is also fully packed with sporty driving properties and interior comfort, with excellent qualities and unlimited expedition capabilities.
The 2011 Volkswagen Touareg SUV was unveiled in Wolfsburg on February 10. It is a completely redeveloped and upgraded vehicle with generally improved parts and has been tagged as the most technically innovative 'Volkswagen' of all time.
Improved design
The Touareg has shed more weight, to enhance speed and fuel consumption. It has been designed with a lighter body, more aerodynamic and more fuel efficient structure compared to its predecessors. The SUV has also been lightened by 208 kilograms in base version.
In addition, the new Touareg is lower to the ground than the previous models. And it is constructed with front end styling based on the new Volkswagen design DNA, resulting in a smaller frontal area. It wheels on a 19inch tyres (Girona type).
Interior comfort
Its interior is also more functional with a dash board. The sitting position is more comfortable with more legroom space, a larger rear and an adjustable backrest angle.
Other standard equipment in the car is a radio-CD and info system, which is intuitively controlled by a 6.5 inch touch screen. The interior design features fine wood inserts (olive ash) and a leather interior (nappa) in two colour combination (dark burgundy/titan black or pepper Beige/Titan black).
Engine power
The engine of the 2011 Touareg is mated with a standard eight-speed automatic transmission, which is classified first in the automobile market segment. The SUV is also the very first off-roader in Europe by a German car manufacturer to be available in hybrid emission version.
The engine come in three types and are all built with full power to produce maximum speed.
They are a 3.6 litre V6 FSI direct-injection petrol engine with a combined power of 206 k, a V6 TDI diesel engine with a maximum torque speed of 550 Newton metres via its strong turbo diesel and a V6 TSI E-motor engine for the hybrid version.
The hybrid emission version of the Touareg can be driven up to 50Km/h in purely electric mode-emission free with maximum torque of 550 Newton meters.
Safety
The vehicles' safety parking brake is now activated by a push button. The engine automatically shuts off at traffic lights and restarts as soon as the driver releases the brake pedal (stop-start system). The vehicle has an area view with 4 cameras to detect the Touareg's surrounding to enhance safety.
Its tailgate can be opened or closed by a RF remote control unit integrated in the car key. It has adoptive cruise control (ACC) with integrated front assist and it can brake to a stop in emergency and tension with the seat belts as a precautionary measure. The car is built with up to 9 air bags surrounding the interior.
The car also comes with Bi-Xenon headlights with dynamic light assist, which perceive oncoming traffic and also adjusts the light beam to eliminate unwanted glare.
Price/Availability
The price of the car has not yet been disclosed, but availability is set for April 2010.