'Fan Begs Halima Abubakar Over Controversial Movie Role'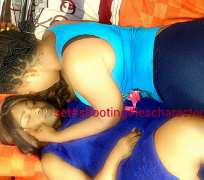 Nollywood actress, Halima Abubakar, may have decided to dish it out hot to anybody who decides to criticize her this time around in any form.
The budding actress, who has recently been constant on the social media, is on the watch out of anyone who will throw stones at her as recently her post on instagram was misinterpreted.
Halima posted a cut from a movie set where she was acting the role of a lesbian on her instagram page and captioned it 'I shot dz scene today. was abit skeptical till I read d script and it is an eye opener. I love challenging roles. You will like it lesson to be learnt #estateruns #movie.'
Few minutes after sharing the pic, some fans came after her and challenged her with counter-comments.
Some of the comments pissed her off and she deleted them before slamming the fans right back.
See Halima's reply below;
'Ur corrupt minds won't let u support ur ppl. if another int star post der shoot, na hail and lov u bae we go dey here @perrythelma face ur pic dear. doin my job n i knw ma limit @prestigius_231 u nasty sis @realdarashi wareba bs
@vicpeters222 it's a movie thx Nigerians n pretence thxxx'
As if the issue was going to end, Perrythelma replied her by letting Halima know that she meant no harm to her personality. This time around, she was calm as she did not delete the post.
Read reply from Perrythelma;
Perrythelma This is what causes problem in Africa most especially in Nigeria, u guys take an advice for a curse, and besides I ain't condemning her, I only said it wasn't cool to post it and she said it just a movie so what's the big issh here? @lovelyvivianrowland
Perrythelma My dear sorry if you misunderstood me, I ain't condemning you, I love your kind and movies kip it up @halimabubakar
>

Perrythelma
© 2014 Nollywoodgists.com
Click the link below to go to...
Sexiest Nigerian Celebrity Moms On Parade
EXCLUSIVE: I Am Not Running For Senate In 2015Yemi Solade Tells Nollywoodgists.com
My Life Is Under Threat By My Cultist TenantCossy Cries Out
Efe Omorogbe, Other COSON Directors Use Our Money To Build HousesAfrican China
Owen Gee's Brother, Sossick Cheats Death In Lagos Car Crash [Pictures]
I Used My Sister's JAMB Fee To Record 'Little Money'9ice Confesses
2Face 'Sleeps' With Princess Onboard Arik Air
Aneke Twins Sizzle In New Pictures That Could Sweep Men Off Feet