Nollywood Actress, Adaorah Ukoh Loses Weight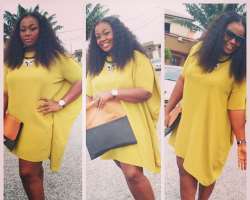 Whatever your opinion on fat persons, it is also true that many who diet and believe they are fat are actually perfectly healthy and even beautiful. Eating well, exercising and finding a weight at which you're personally happy and healthy is the key, not trying to conform to some arbitrary aesthetic.
The launching of Adaora Couture by plus size star actress Adaora Ukoh was one event that brought about a convergence of celebrities and plus personalities within Lagos.
Nollywood actress, Adaorah Ukoh aka Miranda, who features in wave making TV series 'Lekki Wives,' is leaving no stone unturned as the plus size diva, has gone slim and can't stop admiring her new look after several dieting and set stress.
It would be recalled that due to her body size, it was observed that she was stylishly playing being given the roles of a king's wife in movies which helps portray her as an old woman.