Someone Is Granting Interviews With My Name--Tchidi Chikere Laments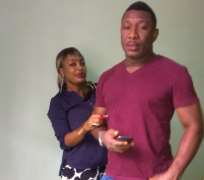 Nollywood actor, director and producer, Tchidi Chikere, since getting married to his actress wife, Nuella Njubigbo, has been under serious criticism of various sorts and the big screen boss his been silent about every issue that comes up about him.
The producer recently expressed his sadness over the way the new media has been abused which he describes as vain write-ups and hearsay which does not add any value to one's life and people just accept it the way it comes.
According to Tchidi's claim, some certain distractors have hurt him so much, even going as far as granting online interviews in his name thereby helping to abuse the usage of internet in Africa.
The actor claims that some body is trying to impersonate him on the social media (Facebook) and as such, warns his fans not to fall victim of their scam which he will not be held responsible of.
Recently, reports had that Tchidi's wife, Nuella was in her early stage of her pregnancy, but yet to be confirmed.