Blame Keshi For Nigeria's Draw Against Iran—Okocha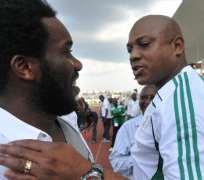 Former Nigerian midfielder, Austin 'Jay-Jay' Okocha, has blamed the Super Eagles poor outing at the ongoing FIFA 2014 World Cup in Brazil to poor technical quality from the head coach, Stephen Keshi.
According to Okocha, Keshi has not brought any changes to the team, noting that this is what all African countries have been facing in this tournament.
'His changes were poor. He took out Moses and brought in Ameobi. I think that was a wrong change,' he observed.
Speaking as an analyst on Supersport, Okocha said Keshi should be held responsible for the lame approach the team adopted in the goalless draw against Iran last night.
The widely regarded 'best Nigerian player' of his generation, with displeasure, said he hopes Nigeria makes it through to the next rounds because the country's expectation is high and that in football, the best team wins the competition.