Exclusive: I Never Insulted Timaya Over Kefee's Death---K Solo Yells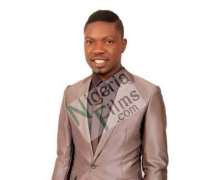 Prolific Nigerian producer, Solomon Oyeniyi, better known as K-Solo, has expressed his displeasure over the way some set of people enjoy creating problems between people, which may result to an unhealthy rivalry.
This is coming on the heels of some viral reports that K-Solo tongue lashed his fellow artiste, Timaya.
In a chat with Nollywoodgists.com, the respected music producer disclosed that he never posted the controversial tweet that slammed Timaya's tribute to Kefee, a gospel singer that died last Friday.
According to K-Solo, the handle that made the post, 'Ksolo911', was not his, confirming that his real handle is @obaksolo.
"I overheard that he had an issue on Instagram with a 'ksolo911' who's not me. I think they had a fracas and he felt it was me. My handle is @obaksolo and it's been like that on my social media accounts. So, I have no issues with Timaya, we stopped working years ago," K-Solo said.
"Whoever cares to listen should know that I never said all those things or granted any interview about Timaya. Timaya and Kefee were good friends, so why will I comment on his post. Please, people should always try to investigate matters before spreading it," he added.
"Timaya is a brand ambassador, so there are things he needs to understand in order to remain focus. I believe he should make his investigations before concluding that I have issues with him or better still, he can call me up to ask questions rather than concluding (wrongly)," the singer-cum-producer observed.
>

© 2014 Nollywoodgists.com
Click the link below to go to...
Exchange Boko Haram Wives, Children For Chibok GirlsHabiba Abubakar Begs Jonathan
Uche Jombo Returns To America, Gets Surprise 'Goodbye' Party [Pictures]
Exclusive: Among Nigeria Pastors, Only TB Joshua Behaves Like Jesus Christ--Soul E
Halima Abubakar Devastated Over Loss Of Dog
Nollywood Actress, Tamara Eteimo Laments Poor Judicial System
I Will Marry In 5 Years TimeIce Prince
Former Maltina Dancehall Host, Kemi Adetiba Humiliated At Lagos Club