Singer, Lynxxx Announces 'No Alcohol' Lifestyle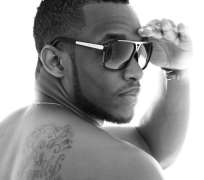 Nigeria's handsome singer, Lynxx has decided to stay away from some certain food which he says will not allow him keep fit.
According to the Syndik8 Records recording artist and CEO of the label, 'over a month now (35days) of no Alcohol, no Rice, No Bread, No Pasta,No Soda etc! feel great, hoping to look even greater at the end of my 60days! #TrainDirty #EatClean that's the Motto! But overall, I think I will give all the above up! Even alcohol! May do a glass here and there but no more binging!'
LYNXXX, is the orginator of Jollof Music, Africa's first Pepsi brand ambassador and is one of the most exciting new artists on the African music scene.
After 10years of observing the industry from behind the scenes, he exploded onto the scene in December 2009 with the release of his first official single, 'Change your Parade', produced by Syndik8 in-house producer and partner 'IKON''.
The single was an immediate hit, taking over the airwaves, dominating clubs and cultivating a significant following through online media.
Aside from his musical career Lynxxx is also an entrepreneur who has established various lucrative businesses prior to the launch of his musical career. These include his clothing line (Syndik8 Denim), a digital recording studio (Red Room Studio- where various Nigerian artists like Sasha, MI, Ikechukwu etc have recorded), and a media company Happy Teddy Media (HTM) & Syndik8 films.
© 2014 Nollywoodgists.com
Click the link below to go to...
Peter And Paul Okoye Set To Have Their White Wedding Together In Dubai
Zaron Ghana Not Happy With Brand Icon-Yvonne Nelson As One Of The People Who Have Been Involved In Bleaching Cases
TIWA SAVAGE'S FATHER-IN-LAW MARRIES YOUNGER LOVER! ...Gets seventh child Featured
Movie star, Doris Simeon Raises An Alarm Over Impersonator Using Her Name For Fraudulent Act
Uche Jombo Sends Birthday Message To Hubby
How the entertainment industry fared in 2013