FEC pays tribute to Dora Akuyili with President Jonathan extolling her virtues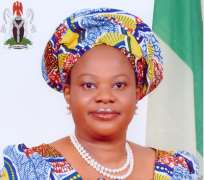 The ‎Federal Executive Council‎ held special tribute in honour of former Minister of Information and Communications, late Prof. Dora Akunyili, who died in an Indian hospital on Saturday. President Goodluck Jonathan and Vice President Namadi Sambo rounded off the session on Wednesday which was held at the Council Chambers, paid special tributes in which they recollected memorable moments with the late former minister. The session began with Minister of Information, Mr. Labaran Maku, who served as Minister of State, Information under Akunyili who moved a motion to condole the President, Nigerian women, the Igbos and indeed all Nigerians on her demise.
Minister of Water Resources, Mrs. Sarah Ochekpe, seconded the motion.
A minute silence was thereafter observed in her honour while the Minister of State, Federal Capital Territory, Olajumoke Akinjide; and the Minister of State, Foreign Affairs, Nurudeen Muhammed, prayed for the repose of her soul.
In his tribute, Jonathan who said Akunyili was role model per excellence who was ready to do the right thing, no matter whose ox is gored, recalled his first encounter with her as NAFDAC DG and he as a deputy governor of Bayelsa State. He said he decided to invite Akunyili, through the state Commissioner for Health, to a breakfast with him in his official residence.
He said he was surprised that the first thing she did at the breakfast table was to condemn the loaves of bread provided, saying they were too cold.
He said, "My governor was outside the country then and he asked me to represent him at the opening session of the health event.
"I was looking forward to meeting Akunyili at the event but she did not attend the session. I was told she would arrive in the evening. I therefore directed the state Commissioner for Health to ask her to join me for breakfast the following day.
"The first thing she did at the breakfast table was to condemn the bread that was provided for breakfast. She said the bread was cold.
"She summoned my stewards and admonished them to ensure that loaves of bread are warmed so that some molds do not cause stomach upset."

The President noted that Akunyili had carried on with her work with the passion as a very courageous woman, recalling that when she was appointed as NAFDAC's DG, people said most people in the fake drug business were her kinsmen and she would not fight them but she proved them wrong.
Jonathan noted that the late former minister introduced a programme to rebrand the country with the popular slogan "Good people, great nation," describing her as "a virtuous woman who is not easy to come by."
Jonathan said he believed that God wanted the deceased to go at the time she died, otherwise, He could have saved her from cancer the same way He saved her from assailants' bullets while she was in NAFDAC.
The President also commended Akunyili's dress style which he said portrayed her as a typical Nigeria woman whose identity could not be mistaken. The Vice President in his tribute described Akunyili's death as a great loss not only to her family but to the country as a whole.
He recalled that the deceased's exemplary service at NAFDAC turned the agency into a shinning star among other government's agencies.
The Vice President said, "Dora's death is a great loss not only to her family but to this country. She was a patriotic and dedicated Nigerian who excelled in any assignment given to her.
"She has left an indelible mark. NAFDAC is a shining star agency in this country because of her efforts. In spite of attempts on her life, she continued her anti-fake drugs war."
Also speaking, the ‎Minister of Interior, Aba Moro, disclosed how Akunyili was initially refused visa by the Indian High Commission in Nigeria when her family members were making efforts to fly her abroad for medical treatment.
He said his intervention revealed that she would only be granted visa if they could get an aircraft that would fly her directly to India.
He said, "At the peak of her health crisis when she was to be flown abroad, I received a message from her family that the Indian High Commission wanted to deny her visa.
"I intervened by quickly getting across to the High Commissioner and I was told that they would give her visa if they could get a plane that will fly her directly to India.
"Luckily, a family friend offered to help with a plane a few days after with the thinking that she would be brought back safely. But that did not come to pass."
Moro described Akunyili's death as a dark moment in the life of the nation.
The Interior Minister said the late Akunyili represented hardwork, determination, commitment, hope and exemplary lifestyle, adding that her patriotism knew no bound even in the face of attacks by the fake drug cartel.
The Secretary to the Government of the Federation, Pius Anyim, described Akunyili as a true nationalist.
He recalled that he received a text message from her on May 30 intimating him of her deteriorating health condition.
He said, "It is with a deep sense of loss that I talk about my sister, Dora.
"I was getting down at the airport on May 30 on my way for a burial when I received a text message from her that she ran into health crisis and was admitted in the National Hospital, Abuja.
"She said after stabilising, she would be flown abroad for further treatment. I tried but could not reach her on the telephone.
"By the time I returned to Abuja, she had already been flown abroad. She was a true nationalist. May her should continue to rest in peace."
On her part, ‎the Coordinating Minister of the Economy and Minister of Finance, Ngozi Okonjo-Iweala, described the former NAFDAC boss as a woman of passion, strength and conviction.
She said it was a sad time for the nation with the demise of a woman who spoke and worked with passion when she was at the saddle at NAFDAC which was rated the best government agency because of her diligence.
"She was a committed mother of six and good wife. She was a top civil servant, a passionate national of Nigeria and a devoted supporter of her state," she said.
The Minister of Power, Prof. Chinedu Nebo, said Akunyili became a professor during his tenure as the Vice Chancellor of the University of Nigeria, Nzukka.
Nebo described her as one with an electrifying personality, regretting that death had denied the nation of a woman who rebranded Nigeria with a phrase that all Nigerians have come to admire.
He also recalled that Akunyili courageously spoke out at the darkest period of the nation's political history when former President Umar Yar'Adua was sick.
"She had an electrifying personality. As a country, we have lost a gem," he said.
Minister of Mines and Steel Development, Alhaji Musa Sada, described Akunyili's demise as a great loss to friends, family and all Nigerians.
He recalled that while she was a minister, no matter how gloomy the situation was in the council, she had a way of lightening up the atmosphere.
Minister of Labour, Emeka Wogu, recalled that Akunyili's rare display of honesty at Petroleum Trust Fund marked her out as an upright person.
He described her valedictory speech to the council on 2011 when she wanted to go and pursue her senatorial ambition as touchy and evergreen.
He added that her last appearance at the ongoing national conference would remain indelible for the epoch-making speech she presented in which she eulogised the President for setting up the conference.
Minister of State, Defence, Musiliu Obanikoro, said all Nigerians could attest to the fact that Akunyili who was blessed with what he called uncommon candle spirit put up a stellar performance and uncommon transformation in NAFDAC.
He said, "She was a great woman of history. The last time I saw her at the inauguration of the national conference, I did not recognise her.
"I greeted somebody seated close to her and I left. She called me and I was almost in tears when I recognised her. She said 'my brother, it is well.'"
Minister of Works, Mike Onolememen, described the deceased as an amazon who contributed her quota to national development.
"She won a number of local and international laurels. She brought pride to our nation. Today, she is no more, she has gone the way of all mortals," he said.
Minister of Health, Onyebuchi Chukwu, described Akunyili's appointment as NAFDAC boss as a game changer having turned the agency into a household name.
He said the prevalent rate of fake drugs in circulation dropped from 60 per cent when the deceased took over to 16 per cent during her tenure.
"She was easily one of the most iconic figures in the 100 years of the nation's history," he added.
Head of the Civil Service of the Federation, Boni Aji, said NAFDAC under Akunyili's watch provided world class service to Nigerians.
He said she displayed exemplary character that earned the agency the first position among the top 10 government agencies.
"For this and other achievements, the entire civil service will greatly miss her," he said.
Others who spoke included the Minister of Police Affairs, Abduljelili Adesiyan and Minister of State, Niger Delta, Dairus Ishaku.