Quest For Governorship, In Our Interest OGNP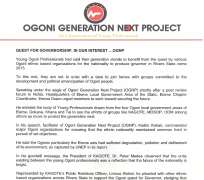 Young Ogoni Professionals had said their generation stands to benefit from the quest by various Ogoni ethnic based organizations for the nationality to produce governor in Rivers State come 2015.

To this end, they are set to unite with a view to join forces with groups committed to the development and political emancipation of Ogoni people.
Speaking under the aegis of Ogoni Generation Next Project (OGNP) shortly after a peer review forum in Nchia, Headquarters of Eleme Local Government Area of the State, Eleme Chapter Coordinator, Emma Osaro urged members to work toward securing the future.
He enlisted the body of Young Professionals drawn from the four Ogoni local government areas of Eleme, Gokana, Khana and Tai to see the efforts of groups like KAGOTE, MOSOP, ODM among others as move to protect the generation next.
In his speech, facilitator of Ogoni Generation Next Project (OGNP), Kadilo Kabari, commended major Ogoni organizations for ensuring that the ethnic nationality maintained common front in pursuit of set objectives.
He said the Ogonis particularly the Eleme axis had suffered degradation, pollution and defilement of its environment, as captured by UNEP in its report.
In his goodwill message, the President of KAGOTE, Dr. Peter Medee observed that the unity existing between the young Ogoni professionals was a reflection that 'the future of the nationality is bright'.
Represented by KAGOTE's Public Relations Officer, Livinus Kiebel, he pleaded with other ethnic based organizations across Rivers State to support the Ogoni quest for Governor, pledging that Ogonis will also stand behind others, as always in their time of need.
In their separate contributions, OGNP National Steering Committee Member, Olakada Ejie, the Coordinators of Khana, Legborsi Neebani; Gokana, Sylvester Vidin and Tai, Baride Dickson, praised the Eleme Chapter for blazing the trail in pursuance of synergy among the chapters.
They lauded the Eleme Local Government Council, Chiefs, Elders and People of the area for reflecting the brotherhood and unity that exist among Ogonis.
Signed:


PROMISE BEBU
Information Desk
OGNP
June 11, 2014