EX-MINISTERS THAT SHOULDN'T RETURN, BY LABOUR LEADER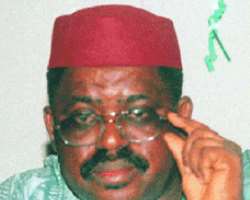 General Secretary of the National Union of Textile and Garment Workers of Nigeria, NUTGTWN, and Vice President, Nigeria Labour Congress, NLC, Issa Aremu, has come out with a list of ministers that should not be re-appointed by acting President Goodluck Jonathan.
Aremu, who is also insisting that Nigerians deserve to know from the Acting President the reason behind the complete sweep, however, added that the country had never and would never be short of loyal ministers, who would always be loyal to whoever appointed them.
Instead, he added that what the country lacked was a 'dedicated team to national development projects.'
The labour leader's views are contained in a press statement issued in Kaduna yesterday evening, a copy of which was made available to Daily Sun.
In the release, he said those who should not be re-appointed were the ex-ministers of education, power, petroleum, interior, information and communication and Niger Delta.
'No official reason has been offered for the recent far-reaching dissolution, just as the government kept imagination running riot with the past minor cabinet changes. Nigerians deserve full disclosures if the Acting President can be counted on the side of transparency and accountability. From the public reactions, however, the impression is that the cabinet dissolution was inevitable and indeed long overdue. However, the point cannot be overemphasised: the nation is yet to see the recent cabinet motions translating into real meaningful qualitative movement in terms of progress and development for a country seriously desperate for development and good governance.
'No doubt Nigeria could certainly do without a cabinet which featured ministers like the former minister of education, Dr Sam Egwu. He scandalously presided over closed universities for three months while his legacy includes mass failures of school leavers judging from the past WAEC and recent abysmal NECO results. Nigerians are certainly legitimately happy to be saved from the sickening excuses of minister of power, Babalola who promised 6000 megawatts but left the nation worse than he met it: with 2000 megawatts. Indeed some of the ministers need to be recalled to account for the disconnect between resources allocated to them and the level of performance. minister of interior who presided over mass killings in Jos, Plateau State ought to have long been fired. Ex-minister Rilwanu Lukman offered the nation more excuses for product supply crisis than the real products he was appointed to deliver.
Ex-minister of information, Dora Akunyili would ever be remembered for her personal wars of attritions with her colleagues than informing the nation about development (or lack of development) in the nation. Ex-Niger Delta Minister Chief Ekaette perfected the art of boring talks than urgent service and products delivery in the region thus giving impetus for agents of criminal violence to resume bombing as witnessed recently with Warri bombing.
'Unfortunately the recent dissolution was not anchored on any verifiable performance. This makes it difficult to assess the intention of government and determine the objective performance criteria for the new round of selection of ministers. On the contrary we are being told the Acting President deserved his own team and loyalists.
'The point cannot be overstated. The country is never short of loyal ministers to who ever appoints them. What the nation lacks is dedicated team to national development projects. Few ministers exhibited patriotism in the direction of bigger issues, namely energy generation, reinvention of industry, education for all and infrastructural development.  This explains why Nigeria with so much endowment keeps moving in vicious cycles.
'The Acting President should know there is real disconnect between motion in terms of tinkering of government's structure and movement in terms of progress and development for Nigeria.  At the end of the day the burden is squarely on the Acting President and not the sick President Musa Yar' Adua to deliver good governance to Nigeria between now and next year.
'Time is too short therefore for this luxury of cycle of dissolution, lobbying and emergency jobs for new boys on the block.'