With no Mace, suspended Edo lawmakers hold session, 'impeach' Speaker, others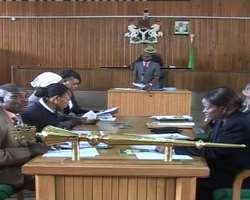 The crisis in the Edo State House of Assembly yesterday took a different dimension as four suspended legislators led by the Deputy Speaker, Festus Ebea and five others held a session that lasted for about five minutes and announced the suspension of the Speaker, Uyi Igbe, Majority Leader, Philip Shaibu and four others.  
However, there was no mace, symbol of authority during the sitting. They were said to have being led to the chamber by a mobile policeman, who alleged forced open the door into the chambers.
Their decision followed a motion moved by Kingsley Ehigiamusoe (Igueben) calling for the suspension of the Speaker, Majority Leader and four others over allegations of 'abandonment of duty and bringing the legislature into disrepute, bringing thugs to the hallowed chambers' to harass lawmakers. The motion was seconded by Patrick Iluobe (Esan Northeast I). They thereafter, adjourned sine die.
No sooner had the PDP lawmakers concluded sitting than 15 lawmakers of the All Progressives Congress (APC) led by the Speaker, Uyi Igbe arrived the council chambers to hold their plenary. A free for all however, occurred when the APC lawmakers attempted to chase away the PDP legislators.
  The APC lawmakers passed a resolution asking the President and the Inspector-General of Police to provide them and families with security. The resolution followed a motion moved by Kabiru Adjoto (Akoko-Edo II) and seconded by Victor Edoror (Esan Central).
Majority Leader Shaibu raised the alarm that some lawmakers have been receiving death threats since the suspension last Monday of Ebea and three others for taking the assembly to court.
Showing reporters bullet holes on the main gate leading to the legislators' quarters on Ihama road, GRA, Benin City, which he said came from shots fired by unidentified persons, he said himself, colleagues and others have been receiving threatening phone calls and SMS.
 Speaking on the parallel sitting of the assembly, Phillip Shaibu said it is not possible for the minority to upturn the decision of the majority APC lawmakers of the assembly.
Shaibu later briefed journalists that 'We came to sitting this morning and we sat normally; the police escorted the suspended members and the PDP members to the chambers. On our arrival at 10am, we saw them hurriedly rushing out of the chambers. The police assisted them to forcefully open the place. When they saw us they rushed out. Adjoto raised a matter of urgent public importance over an alleged meeting that took place where the Speaker, Adjoto and myself were marked for assassination. The motion went through. The order of the day continued but we had to suspend because someone fired tear gas into the chamber. We therefore, hurried took the order of the day and we adjourned sitting till tomorrow. So, the issue of suspending us I don't know how it took place, the paraphernalia of office is in the hands of the Speaker. We were surprised that the police will shoot tear gas at us when we were sitting and the police will aid them to forcefully join us, which we resisted. We have sent a petition to the IG over this action of his men.'