Nollywood pays tributes to Amaka Igwe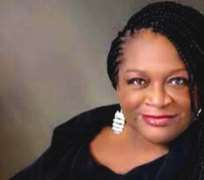 Friends, families, Nollywood thespians and fans on Monday evening thronged the New Haven Event Centre, Enugu, for the service of songs that heralded the final journey of the late Nollywood icon, Amaka Igwe.
The News Agency of Nigeria reports that the 'Night of Tributes'' was well attended by notable Nollywood stars like Richard Mofe-Damijo, Ego Boyo and Kunle Bamtefa.
Others include Patrick Doyle, Adewunmi Ogunsanya, Iretiola Doyle, Wangi Mba Uzuokwu, Ejike Asiegbu, Abike Dabiri Erewa, Keppy Ekpeyong-Bassey, Tunde Kelani, Wunmi Obe, Henrietta Kosoko, Waje and Onyeka Onwenu.
Here are some of the quotes from the remarks made by the numerous speakers at the event.
'There must be a huge vacancy in heaven that no one could fill but Amaka Igwe' â€' Chris Ihidero.
'We mourn her, yes, but we also celebrate her' â€' Gloria Ene
'Like Johnny Walker, she kept pressing on even in the face of discouragement' â€' Mrs Thelma Utigwe Oti.
'I am mourning your absence not your present location, I will see you again but not very soon' â€' Ruby Igwe.
'If she's probably shooting a movie in heaven, it will be titled 'The Heavenly House of Serenity' â€' Dr Bola Oyeleye.
'Precious is the death of Amaka, she was a saint' â€' Mrs Bernard-Oti,
'Amaka's legacy will never die' â€' Mr Dewunmi Ogunsanya
'Her legacy lives on, and Africa Magic will make sure that what she did produce will be highlighted and she will be celebrated always' â€' Wangi Mba Uzoukwu.
'After working with Amaka I didn't feel like working with another producer again' â€' Kunle Bamtefa.
'She brought out the talent in me, she's my sister and my friend' â€' Mrs Ego Boyo. NAN