PDP Almost Bungled The Future Of Imo State—Madumere
Calls For Unity Of Purpose And Discipline In APC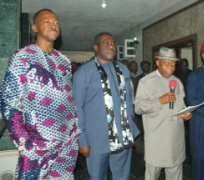 In appreciation of the vibrancy so far exhibited by the All Progressives Congress, Imo Deputy Governor has commended the leadership of the party while deriding Peoples Democratic Party for almost ruining Imo State in twelve years of her rein.
In his address during an inaugural meeting of the leadership All Progressives Congress party at Shadiv Hotel, Ubomiri, Mbaitoli Local Government Area, Imo State yesterday, Prince Eze Madumere called on the party faithful of the need to remain unrepentantly loyal to the party.
He however hammered on the importance of reminding the people of the giant strides of Owelle Anayo Rochas Okorocha, which he said has far surpassed twelve year opportunity the Peoples Democratic Party bungled.
He reminded his audience of free and qualitative education, which Owelle Anayo Rochas Okorocha, the governor of Imo Stat, has implemented for three years of his Rescue Mission Administration, which among other things are free shoes, text books, uniform, class chairs and desks and
However, the recently crowned best Deputy Governor in the South East and the one the ten most outstanding deputy governors in Nigeria according the Nation Newspaper survey, he said the hospitality industry has got a big boost with the construction of a super model International Convention Centre in Owerri. He further mentioned the construction of 305 Six class room buildings in the the 305 wards, massive rural road construction and infrastructural development, which he said has created room for all Imo children to study under a conducive environment.
The former Chief of Staff to Governor Okorocha mentioned agriculture as one of the major areas of importance to the government. He said Government of Imo State government is boosting palm plantation in such manner that in few years time, the State will be raking in sustainable revenue to ad to its development and industrialization.
Speaking further, he reminded the party leadership their role to stand up against the lies being peddled around by the opposition party. He said what is going on in the town is calling black white in the name of politics . He alerted the people the danger of having such desperate and selfish politicians at the helms of affairs saying it will only spell doom for the future of the State owing to its mal-administration and disoriented inhuman tradition in governance.
Advising the party leaders, he voted for level playing ground for all aspirants while calling for existence of love among them since the ultimate goal is to produce good leaders and to win elections so as to continue to make Imo State better.
According to Prince Madumere, in his exact words, "you must be treat all equal. We must have must have mutual respect for one another while we create a level playing ground for all. Our party, APC, remains supreme and I expect all to be loyal to her leadership. For us, we have good products to sell. Our product has been tasted and it is a brand every Imolite cannot afford to lose".
UCHE ONWUCHEKWA
CPS TO DEPUTY GOVERNOR
IMO STATE
2014-06-10 230657
2014-06-10 230709