SURE-P in two years spends N280bn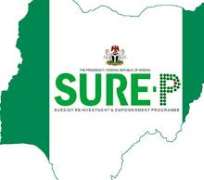 Since two years that the Subsidy Reinvestment and Empowerment Programme was established, it has spent N280bn on intervention projects across the country.

A member of the programme's Board, Mazi Sam Ohunabuwa, disclosed this in an interview with State House correspondents after a meeting with President Goodluck Jonathan on Monday.

Ohunabuwa said the N280bn was spent on road and railway constructions among others.

He said the sum was part of the N360bn allocated to the programme while N80bn was rolled over.

He said, 'It is important to know that in two years of our existence, we have spent less than N300bn.

'Out of the N360bn that was allocated to us, we rolled over N80bn; so we spent about N280bn.

'That's what we used to get the East-West Road to where it is, the rail line running from Kano to Lagos, and all the works that have been done.

'So you can imagine if the over N1tr that was spent on subsidy is released for this kind of work, Nigeria will get the best of services.'

The programme's Chairman, Gen. Martin Luther Agwai, also added that apart from intervening in the Abuja-Lokoja Road, SURE-P had done well in the area of maternal health by upgrading 500 health centres while work was ongoing on another 700.

SURE-P was set up by the present administration to utilise the fund saved from the partial removal of fuel subsidy on developmental projects.