Extra Judicial Killing Of A Minor In Benin By The Police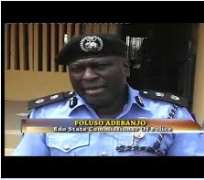 On Thursday the 5th of June, 2014, LOVELY OMOREGIE, 15 years old child was extra judicially murdered by Police in Command headquarters. The deceased was slaughter to death by the blood sucking policemen that have been involved in extra judicial killings in Edo state. He was killed right in his father's house where they were playing What.
The deceased father who was an eye witness told us that the 15 years old boy was shot thrice and thereafter dragged into the Police Van alongside others who were present where they were playing Whot card game. The rest children are still in the custody of the police in State CID.
The serial Killers quickly went to Magistrate Court to get a Coroner Order to bury the minor having deceived the Magistrate that they have killed an armed robber at the scene of crime. They are yet to bury him because of pressure from from some human rights quarters. The Police are fundamentally charged with the responsibility of protecting human lives and properties.
It must be noted that within the period of 12 months, The Edo State Police Command had extra-judicially murdered Ibrahim Momodu, May 27, 2013; Samuel Imaikop and four others in November 24, 2013; Odion Egbon was murdered by the police in february 15th, 2014. Today it IS LOVELY OMOREGIE. Who is the next?
It is extremely shameful that today in Edo State, gunshots and horsewhips are still instruments of compliance employed by the monsters in police apron. The police on a regular basis employ torture as a means of extracting confessional statements from suspects.
In recent times, death of innocent citizens in the hands of the very people employed to protect them has become alarming. Very few of these killer cops have been brought to book. These days policemen routinely kill innocent citizens, usually over trivial issues. The trend is disturbing, disheartening and something needs to be done by the State Actors to arrest the ugly trend so that the masses will not be force to take their destiny into their hands which will be tantamount to a situation whereby things will begin to fall apart and the centre cannot hold.
The extra judicial killing of Mohammed Yusuf led to insurgency in Nigeria. WE say caboodle rejectamenta to extra judicial killings.. The Commissioner Fuluso Adebanjo must ensure that the blood sucking cops are brought to justice to serve as deterrent to other ritualistic policemen who take delight in killing innocent citizens.