Amaechi-led NGF to make objective recommendations on governors' benefits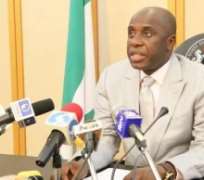 In response to outcries over recent passage of jumbo retirement packages for governors by various state houses of assembly, the Governor Rotimi Amaechi-led faction of the Nigeria Governors' Forum (NGF) said it would make objective recommendation for governors retirement benefits.
The governors also promise to henceforth focus on providing good governance and service delivery in the remaining period of their tenure.
These were part of resolutions adopted in a communiqué red by the Amaechi, who is the incumbent governor of Rivers State, at the 4th Retreat of the forum in Port Harcourt on Friday.
The retreat had health and youth unemployment and transition - life after office prospects and challenges as its major focus.
According to the communiqué, the new has become necessary because whatever happened in the last year of a governor`s tenure can make or mar his record of performance in the office.
The governors promised to place more emphasis on making primary health care more accessible to patients, by putting in place a system which would make them utilise health facilities closer to them.
The communiqué said the governors would make it a priority to provide universal primary healthcare to all citizens and ensure its sustainability and affordability.
On youth unemployment, the governors said they would make provisions for and support infrastructure necessary for speedy broadband and internet connections.
This, the governors stressed, would ensure that youths in particular and Nigerians generally participated massively in wealth to be made from the knowledge-based economy.
The communiqué said that the governors resolved to support efforts targeted at providing enabling environment in which jobs could be created.
It said the governors would also lay emphasis on infrastructure including uninterrupted electricity supply.
The governors also resolved to use their position in the National Economic Council (NEC) to press for low interest rate and enforcement of import policies and collection of customs duties.
They also promised to adopt investment for poverty reduction and employment strategies by emphasising policies that would generate employment at local levels.
Amaechi commended the forum`s secretariat staff, under his chairmanship, for preparation of a transition guide book for governors.
The News Agency of Nigeria (NAN) reports that the retreat, hosted by Amaechi, was attended by Governors of Kano, Imo, Adamawa, Lagos, Sokoto, Ekiti, Ogun, Oyo Nasarawa and Edo states.
A former President of Liberian, Prof Amos Sawyer, former Governor of Kwara, Bukola Saraki, former Minister of FCT, Malam Nasir el Rurai, Prof Oyewole Owolabi and Prof Oyewale Tomori were also present at the retreat.
NGF, the umbrella association for all elected governors, became factionalised on March 26, 2013 after its chairmanship election (NAN)