Nollywood Director, Lancelot Exposes Foreign Loots With "Invasion 1987," Out With Customize Shirts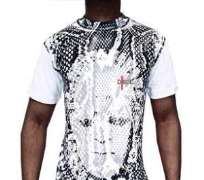 Ever busy Nollywood director, Lancelot Imaseun, is set to hit the big screen with his much anticipated movie premiere, "Invasion 1987."
Imasuen's most ambitious film production "Invasion 1897" may become the most expensive Nigerian film so far according to details of the cost of making the movie. The budget may end up almost twice the budget of Biyi Bandele's "Half of A Yellow Sun" that cost about $8 million.
Meanwhile, in preparation for the premiere of his movie, Lancelot has shared photos of the customized shirts to be sold as gift items at the movie premiere venues and also at every leading shops around the world.
The historical epic film highlights the restoration of the looted priceless ancient artifacts of the Benin kingdom, including the famous commemorative head and pendant of ivory mask representing Queen Idia (from court of Benin, 16th century) who was the mother of Esigie, the Oba of Benin who ruled from 1504 to 1550.
The film has been endorsed by the Benin monarch, Oba Omo N'Oba N'Edo Uku Akpolopolo Erediauwa 1, who also honoured Lancelot Imasuen with the 2013 Oba Erediauwa Excellence Award.
The world premiere of "Invasion 1897" will take place in Benin city, Edo State, before the end of 2014.