Taiwo Aromokun's Twin Sister Engaged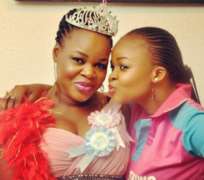 After crying for help over one of her tenants who has been giving her sleepless night, actress Cossy Orjiakor may have finally decided to take her case on the social media since the Nigerian police are not doing anything to salvage her complains.
Recently, the actress complained about her tenant who has been owing her some rents allowance which he refused to pay.
She complained that this tenant threatened her after his rents was overdue and refused to move out. Adding that she was slapped by his group member two days back.
Cossy who could not hide her fears, took to the social media to express her fears stating that incase anything happen to her, the dude in question by name Akapo Olushola Gerrard, and the wife Uju akapo, should be held responsible.
The actress regretted not placing her house in the care of an agent and as such, called on Nigerians to come to her rescue. I can't run from my home because he is in Aye fraternity. Almost all the young boys here have been intimidated to joined this group, she laments.
Click the link below to go to...
Tonto Dikeh's Police Arrest Threat**I Never Abandoned A Movie Set For Another--Tonto
UNCOVERED ! THE 3 REASONS RAP STAR,MI DENIED HIS MARRIAGE PLANS TO ERICA OKUNDAYE
Davido Flaunts N10m Cheque Online**Apologises For Act
ADESUWA COST ME 18 MILLION NAIRA SAYS JOHN ABUA.
VIDEO: Mercy Chinwo Becomes Nigerian Idol Winner**As Show Fails To Produce First Male WinnerSTEPHANIE OKEREKE OPENS UP ON N100M PARIS WEDDING--SAYS I'VE ALWAYS DREAMNT OF A FAIRY TALE WEDDING
STEPHANIE OKEREKE'S FRENCH ODYSSEY
More Pictures From Stephanie Okereke's Wedding
First Photos from Stephanie Okereke's France Wedding