The Plot To Put Ikenna Samuelson Iwuoha Out Of Circulation In Imo State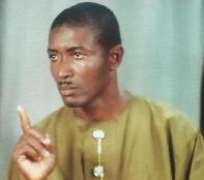 The Youths Against Human Rights Violation And Corrupt Practices (YAHVCP) wish to inform the media, trade union activists locally and internationally, organizations and individuals in Imo State, student and youth members of the JTVC, activists across the federation and the general public that the Imo State Police Command Yesterday, June 3, 2014 arrested an Imo State Anti Corruption Crusader Citizen Samuelson Iwuoha and his wife and shamelessly imposed criminal charges against them.
This we see as the PLAN B of some political thieving vampires in Imo State who desperately want to put the Activist out of circulation.
Iwuoha survived an assassination attempt at his Ikenegbu Layout residence in Owerri after gunmen came looking for him in his home and left after killing one. The police that were called in for investigation started indiscriminate arrest of youths in the neighborhood and detained them illegally. Iwuoha and his wife have been in detention since the 3rd of June 2014.
Mr Samuelson had severally criticized a top politician in Owerri for looting Imo tax payers money and had raised alarm that the politician and his sister threatened to assassinate him. On the 18th of December 2013 he issued a press statement published in several media including FAMOUS NAIJA blog tagged corruption in Imo Speakers office my life is in danger.
He said thus 'Consequent upon my resignation yesterday the 17th of December 2013 as the Senior Special Assistant on Special Duties to the Speaker of Imo State House of Assembly, I have been receiving calls with unknown numbers from strange people threatening to kill me and members of my family should I go ahead to expose the various fraudulent activities going on in the Office of the Speaker of Imo State House of Assembly.
Let me therefore use this very opportunity to alert members of the public that my life and that of members of my family are under threat. Should anything untoward happen to me and members of my family, the Chief of Staff to the Speaker of Imo State House of Assembly Mr. Kodichi Anamekwe, the Acting SSA Media to the Speaker Mr. Emeka Ahaneku, the Special Adviser on Administration Mr. Kingsley Nkemka, the Special Adviser on Political matters Mr. Kingsley Ndubueze and their cohorts should be held responsible.
On the 29th of April 2014, one Ahmefula Amadi released a press statement published in Elombah blog and other news media tagged Iwuoha plans to commit suicide if arrested, saying thus 'Youths in the State, under the auspices of Network of Imo Youths, have raised an alarm over perfected plans by, Mr. Samuelson Iwuoha, to forcefully take away his life in the event of any arrest occasioned by his inability to produce evidence of his fraud allegations against the Speaker, Rt. Hon. Benjamin Uwajumogu'
The Statement read in parts: 'We want to bring to the notice of the good people of the State that Mr. Samuelson Iwuoha, the sacked S.A (Media) to the Speaker is at it again.Having lost the battle of erroneously blackmailing the Speaker over unsubstantiated allegations, even when beckoned to come forward by stakeholders in the state, including this youth body, Mr. Iwuoha has concluded plans to commit suicide if arrested by security agents over his false accusations and finally hang it on Mr. Speaker's Head'' Samuelson has since told the world that Amefula Amadi is the pen name of Mr Emeka Ahaneku the SSA Media to the Imo State Speaker.
On the 1st of May 2014 Citizen Samuelson Iwuoha dismissed the report that he was planning to commit suicide, saying that aides of the Speaker of the Imo State House of Assembly, Rt. Hon. Benjamin Uwajumogu, sparked the rumours as a smokescreen to pave the way for his murder. He said in a statement sent to newsmen by e-mail: 'Imo Speaker and his corrupt office have blackmailed me enough, yet their blackmails have refused to stick.
They have concocted several stories against me, yet Imo people and Nigerians have refused to believe them. Now they have concluded plans to kill me after abducting me. But they have decided to be pro-active by deceiving the public with a press release signed with a fictitious name - CHINOMNSO OBI that I want to commit suicide. They will not succeed. I am very proud that I have exposed them as thieves, criminals and fraudsters denting the very good image of the government of Owelle Rochas Okorocha'.
Citizen Samuelson thereafter called on the relevant security agencies in the country to ensure that his safety and that of the enlarged Iwuoha family is guaranteed. He alleged that Speaker Uwajumogu and his sister, Ms. Chidinma Uwajumogu, had few weeks ago threatened to kill him 'for exposing the criminal activities of the Speaker.' The activist asked Imo people and Nigerians to specifically hold Chief Benjamin Uwajumogu and his sister Chidinma as well as the named aides responsible should anything whatsoever happen to him or any member of his family.
On the 3rd of June 2014 the hired killers came to his house leaving one person dead. With the survival of the Activist the PLAN B now is to charge him to court with all kinds of trump up allegations and jail him .
YAHVCP is calling on the NLC, TUC, Human Rights community ,Nigeria Bar Association other pro-people organizations to join in the struggle to free IWUOHA a man whose 'sin' is fighting for social change in Imo State. YAHVCP sees the arrest of Iwuoha and his wife by the Imo Police and imposing of criminal charges on them as a throwback to the military era when activists were framed and their rights violated at will. It is part of a concerted effort by the political thieving vampires in the state to suppress activists right to protest and resist their mindless looting of the state and their anti-poor policies. LET US SAVE IWUOHA FROM GETTING KILLED NOW.
We appeal for protest letters to be sent to the Nigeria Police authorities and Nigeria embassies. Where possible it will be appreciated if there could be protests at the Imo State Government House Owerri. . Calls should be made to the Inspector-General of Police and Police Force PRO - to demand the immediate release of Activist Iwuoha without charge. The office of Imo state police command should be called to register protest.
Signed
Kenneth Uwadi
YAHVCP National Coordinator