State Of Emergency: Govs. Nyako, Geidam And Shettima Should Be Removed - Dan Suleiman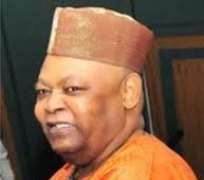 In This Interview Commodore Dan Suleiman Retired expresses support for the extension of State of Emergency, while calling for the removal of the Three State Governors of the affected states.
The Excerpts:
Following the expiration of the six month emergency rule in the states of Adamawa, Yobe and Borno, the national assembly has approved the extension of the emergency rule for another six months, following president Jonathan's letter seeking for extension, a scenario which the Arewa Consultative Forum did not see it as a good thing, where they said the president has a sinister agenda against the north. What is your take on the extension of emergency rule?
What is the sinister agenda, the purpose of the emergency rule is to curb the insurgence, is that a sinister agenda? If they are saying is sinister agenda, it means they are in support of the insurgency. Are they now saying that what president Jonathan is doing is sinister to the insurgents? So anybody who supports the insurgents definitely will feel aggrieved by the extension of President Jonathan.
Their grouse is that the emergency rule that was imposed has not achieved anything in this three states, rather the killings by the insurgence has gone even higher than before. That this issue of using the military is not working.
Will you now say because someone's sickness is getting worse and he or she will stop taking medication, so because disease is getting worse you will stop taking medication? Their argument is not a rational one, the problem yes is getting worse, but what is the solution, are they giving any alternative solution to what the President is doing? You know the president is in a kind of attack from all angle, if he takes action he is attacked, if he doesn't take action he is attacked, so he has to take action.
The only way he can take action is to allow security people the latitude to act, the only way he can give them latitude is give them an open hand to operate freely, if not you continue to hold them, they will not achieve the purpose of why they are set up. The state of emergency gives them freedom to move into all areas of the states, and to carry out their operations. That is what is it is all about. My suggestion is that they should do what the American did in Iraq, it is an operation of sweep, where they swept from the Southern part of Iraq and continue to sweep until they got to the Northern part of Iraq.
Don't you think if there is this sweep, there is going to be a collateral damage, even civilians will die.
Of course, there will be, was there no collateral damage in Iraq, is the war in Iraq not over? Was there no collateral damage in Afghanistan, is the war not over? So there is nowhere in the world where u can have war without collateral damage, it is the degree of the collateral damage that people are trying to avoid. You must minimize the damage, but there is no how there won't be damage. It can be minimize by the amount of force you applied and the weapons that were used. If you use excessive force, there will be collateral damage that is why now the Americans, the British, French, China and even Israel are on training our forces on how to apply its forces with international norms.
This is what I believe the Secretary of State of the USA said in his interview here in Nigeria. They are trying to train our troops in a way of this insurgency war in order to reduce the number of civilian casualties and damages by helping and training our troops in the use of weaponry and applications. Because there is a manner in which you apply force, and handling of ammunitions that will cause more damages that you want to avoid. With the coming of the foreign countries we can now be able to learn how to use such equipment that can use to fish out this insurgence, such equipment as drones. I welcome drones, I support the use of drones, and you can pinpoint your target, and eliminate it without engaging the surrounding people there, that is what the drones are all about and it is used to minimize of collateral damage.
Will you say the statement that came from the Arewa Consultative Forum, ACF and that one that came from Governor Nyako are the same?
They are one and the same, the only thing I can say about that Nyako's memo or statement is a reckless statement, and a man in his position ought not to have said that. Look we have a lot to say about Nyako about Adamawa, but we have kept back from saying things, that we have no evidence because we are a responsible people. If you are holding a responsible position there are things you don't say, so as not aggravate the situation at that time.
The President of the Christian Association of Nigeria, CAN, Ayo Oritsejefor, and other people have been calling for the removal of the governors in the three states where emergency have been imposed.
From the beginning, I thought it is an irony for you to call for state of emergency and you live the governors to be in place. It makes no sense, what is state of emergency then. If there is a state of emergency both the people and the governors should feel the heat. A case where the emergency only affects the ordinary man in the street, is not emergency then? No, these governors parade themselves as the Chief Security Officers of their respective states, so what are they doing in their territory, why are they putting all blame on the Federal government or Jonathan.
Is Jonathan the Chief Security Officer in Adamawa? Is he the one in Yobe or Borno, No he is only the Commander In Chief and he only comes in when there issues that are above or beyond them. The state of emergency, is all about removing people who are ineffective and replace them with people who are effective to carry out security efforts primarily to ensure security for people who are in there care. If they cannot do it, then they should be removed and replaced by people who can do it. It happened in Plateau before, so why is there own different.
So in totality you are in support of the three governors being removed from their states

Absolutely I am in support of that.
Is there any way in which the state of emergency will be imposed and the governors not be removed like the one done by President Jonathan. Does it require legislation?

It does require legislation from their state assemblies that is what the constitution provides.
Now we have solicited for the help of the international community and even our neighbouring countries, does it mean that our Military are lacking.

If you go back to one of our old interviews you had with me on the issue of this insurgence, I said that the Federal Government should collaborate with our neighbours in a dialogue to find out how best we can resolve this monster, to find a solution to it and set up joint patrols on the insurgence, but unfortunately my views ended up in a pages of newspaper. It is now they are inviting the neighbouring countries and other countries such as USA, Britain, France, this is because this issue has become an international issue, and it is beyond Nigeria alone.
The battle in Afghanistan they have to involve countries like Pakistan, they even have other allies, the truth is that if Nigeria fails this insurgence will move over the neighboring countries, so their own interest is there to protect. It is better late than never. What we are fighting is terrorism and terrorism is an international issue, you cannot fight it within your bother, it requires international cooperation. You know that these insurgents are being trained in foreign countries up to the upland of Mali. For instance it was reported that one of the alleged mastermind of the Nyanya bomb blast was arrested in Sudan, with the Sudanese cooperation. If Cameroun, Chad, Niger, is all helping us, where will they operate from?

There have been talk since the coming of the international community; there have been concerns from some quarters that there should be dialogue between the insurgence and the federal government rather than using force. Do you agree on this?

Has Jonathan refused dialogue, he has not, so why are they asking for dialogue, he is already doing it, and as far as I know he set up a committee and they committee are already doing their work. The Turaki Committee is in place and they are looking for people to dialogue with because you can't dialogue with yourself otherwise you are a mad man.
You were once in a military officer, do you agree with issues in the media that one of the reasons why they are not succeeding is because of lack of allowance, good equipments to match the firepower of the insurgents.

Certainly the military if it is not united, if it loses its moral and cohesion, definitely it is bound not to succeed anywhere, not only in Nigeria, anywhere in Nigeria. So Jonathan even said it that Boko Haram has infiltrated his government, what is happening is that they may have infiltrated our troops, trying to create confusion among the military. I even heard from media reports that one of the officers that whiles engaging the Boko Haram he saw some of his colleagues. This is an act of war. The military should also be doing an undercover work to infiltrate the Boko Haram in order to get intelligence from them. There should be intelligence.
The Chibok issue, has become an international issue, and there has been different controversies, whereby there has been blame game, for instance WAEC said it told the governor to relocate the children to a more safer place like the state capital, an advice which they said he never heeded to. Do you think the Governor should also get the blame?

Of course, who is the Chief Security officer of the state, is he not the one, so he should be blame also, he has been advised by WAEC and he didn't do it, and they are blaming Jonathan. Does it make it sense. They are to blame. Just like the statement that Patience Jonathan made, that every person was on her, she is a human being she has the right to her own opinion. Being a first lady, she has own role to play.