NEW RECORD DEAL FOR SAEON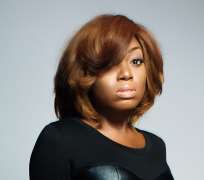 Fast rising singer Seun Oni, popularly known as Saeon has just been signed on to the newly found record label: Baseline Music. Baseline Music is part of the New Media Group Baseline Entertainment and is under the management of Howie T and his partner Dipo Abdul.
Saeon is the first artiste signed to the label that will see to the marketing, promotion and distribution of her music.
'Saeon is a very talented young woman, and we see potentials in her that is why baseline signed her, we love her music, and we can assure you that you will hear a lot from her moving forward' Howie T says
Currently armed with smash hit single Boogie Down featuring Wizkid, Saeon has been pencilled down as one of the female acts to watch out for since the release of the single. Produced by Maleek Berry, Boogie down video was shot in Lagos, Nigeria by Sesan last week.
The International Studies & History Graduate from Babcock University also has a Post Graduate Diploma in International Relations
'I am currently in the studio with top producers Sarz, Gospel and Maleek Berry. I am putting in a lot of work, because with the company of people I am around, I always have to be on my toes to avoid being a disappointment.' She says
Saeon isn't in bad company, Bayo Odusami popularly referred to as Howie T in the entertainment sector discovered P-Square and gave them their big break.
Howie T is a respected Show Biz impresario who doubles as an Entertainment Consultant having been a big part of the Star Mega Jam's successes like the Shaggy and 50Cent Nigeria Tour was also back in the day a top DeeJay and along with other pioneers like Obi Asika.
Dipo Abdul who along with Howie T, founded Kiss Media Group has also been active in the boom and ground breaking development visible in the entertainment industry.
Here's the link to her current smash hit Boogie Down featuring Wizkid