My Life Is Under Threat By My Cultist Tenant—Cossy Cries Out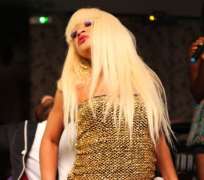 Controversial Nollywood actress, Cossy Orjiakor has made an SOS call to the general public claiming her life is under threat by one of her tenants, who she accused of being a cultist with the Black Axe confraternity also known as Aiye. The entertainer took to her Twitter page to post a series of tweets about the incident.
She also stated in the tweets that she was assaulted by a member of tenant's group, who she gave his name to be Akapo Olushola Gerrard.
Cossy further disclosed that the man is owing her in house rent and has refused to pay up or move out of the house.
Here are Cossy's tweets;
"As ugly as the man is, he looks like a god to the wifes. Dt why she tot I will belittle myself and like/ date her husband. He was just a fan.
"The occupants of this flat is like tenant from hell. the husband (cotonue) and the woman( igbo). What ve I not seen from this two!
"This dude threatens me.his rents is overdue he don't want to move. Was slapped by his group member 2days back. I can't be intimidated.
'I can't run from my home bc he is in Aye fraternity. Almost all the young boys here have been intimidated to joined this group.
"Reported this tenant 8months back to ilanson police station. Even d Baale is aware of d cultist situation in d neighborhood. I rest my case.
"The other pips owing me are no threats pips. Will wait on them to pay me. Thou its annoying when they don't ve money but use gen 24/7.
"Right now I gat tears rolling down my eyes. Tot talking abt this will make me feel better. But it only made me more away of my neighborhood.
"Incase anything happen to me. his name is Akapo Olushola Gerrard, and the wife uju akapo. I have had sleepless nights cuz of this them.
"I feel better and stronger now. Thanks for listening. Just gonna take some aspirin. Rest and wish this all goes away when I wake. Kisses.'
© 2014 Nollywoodgists.com
Click the link below to go to...
Tonto Dikeh, Spotted With Her Maid
THE UNTOLD STORY OF HOW COMEDIENNE, PRINCESS MARRIAGE COLLAPSED
Fans Blasts Jude Okoye After Showing Off His Guns
Gov. Oshiomole Gives Plantain Chips Hawker One Million Naira
Popular Yoruba Actress/Producer, Laide Bakare Shares Passionate Kiss With Her Husband
I Use Cocoa Butter Am Not Bleaching- Yvonne Nelson Speaks Out