Banky W Shows Poetry Talent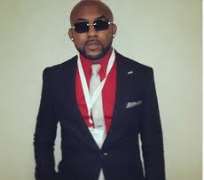 RnB singer, Banky W, at the MTN charity event held Monday, turned a poet as he recited some verses of his written poem titled 'Verse To The Girl Child.'
According to the artiste, the poem signifies a sign of plea for the abducted girls to be released as they happen to be the future leaders.
While reciting the poem, the artiste received a standing ovation with various commendations.
Read full poem below.
VERSE TO THE GIRL CHILD
What frightens the extremists and really gives them the spooks?
There's nothing scarier to them than a girl with a book
Not a soldier, or a bomb, or a gun, or a landmine
There's nothing more dangerous than her enlightened mind
So they kidnap, and enslave, and try to stand in her way
And they rape, and oppress and try to make her afraid
Because they know, that for sure, she'll grow up one day
And when that day comes, she'll be strong enough to bring change
So respect to the girl child, you've got grown men scared of you
Salute to our future Chimamandas, and our Tiwa Savages too
To our future Oprah Winfreys and our Maya Angelous
Because we know you will grow, and your success is inevitable
They can try to fight it, and they can try to deny
They can kidnap at night, and they can try to terrorise
But may nothing and noone ever succeed in snuffing out your light
And that little light of yours, will one day shine bright
They say the truth will set you free, well this is the gospel truth
There's nothing more powerful than a girl with a book
By Banky W
Inspired by a quote from U.N Secretary General Ban Ki-Moon
© 2014 Nollywoodgists.com
Click the link below to go to...
My Problem Is From Home And Spiritual Too--Majek Fashek
Celebs Flaunt Their Assets Because It Is NecessaryFunky Mallam
What Does Your Boyfriend Do for A Living? And Do You Really Know Him?
Uche Jombo Shares 'Almost Perfect' Location Pictures
Flavour Splashes Car On Producer
Anambra Governor Appoints Bob Manuel As SSA
Wizkid's Ex-Babe, Tania Omotayo To Give Fans 300k
On Air Personality Fade Ogunro, Sizzles In Glam Designers Outfits (Pictured)